Last update: 26.03.2020
Following the World Health Organisation's classification of COVID-19 as a pandemic, we wanted to take a moment to reflect on how best to continue in this challenging time.
Keeping our offices safe
Following the latest guidance on how best to prevent the spread of the virus, our teams are now working remotely across our global locations. We are very fortunate to have the support of a winning-edge IT team, and our UK team have been able to access all systems smoothly and without disruption. We will endeavour to keep all our other offices open where possible, but have also put measures in place to ensure the safety of our workforces around the world by enabling remote work, if required. We will do this safe in the knowledge that it will be very much business as normal for Czarnikow, regardless of where we are working.
And in the light of the continued market disruption, we feel it is important to remain focused on supporting our supply chains and clients. We will be working to manage volatility, ensure smooth cash flow and financing, and the efficient running of supply chains during this disruption. For any problems that you might experience with your supply chains, we are, as ever, on-hand to help.
To stay updated about recent developments on Coronavirus and its impact on the food, drink, energy and packaging markets, you can download Czapp for free from the Apple and Google Play stores.
Despite sugar prices reaching a high in February, prices have continued to fall within a volatile market, and our analysis team will be regularly publishing their updated guidance on consumption levels, and which will be made available for free to all users.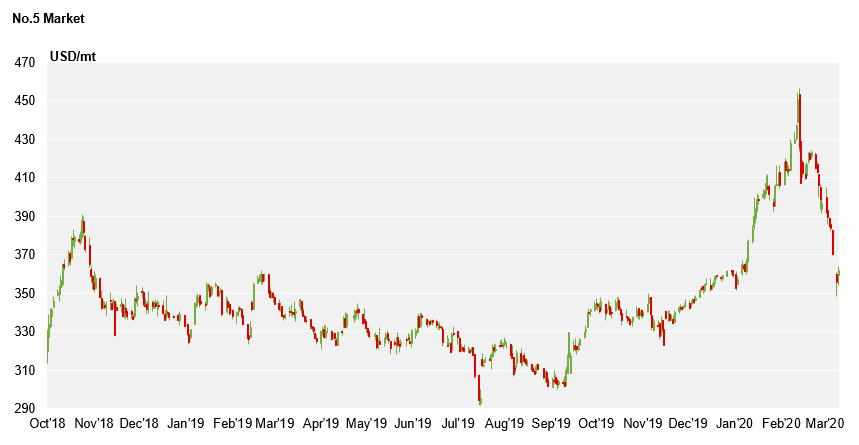 It's not only sugar that's being hit by the pandemic. The SMP (Skimmed Milk Powder) market has been severely affected, and ripples are being felt in the ingredients, packaging and energy sectors as markets continue to be hard to predict.
Despite these circumstances, we are confident that by staying informed and connected we can continue to act to the best of our ability throughout this period. With parts of China going back to work this week, we are hopeful that we will see a settling of the situation before too long and that we can support all our clients and partners until such time as it does.
Robin Cave, CEO