You are in the supermarket looking for some juice and find yourself spoilt for choice. Do you go with the freshly squeezed juice, not from concentrate or juice drink? Or just the regular from concentrate juice, but what if it is bad for you? 
What does 'from concentrate' mean?
Fruit juice from concentrate is made from mostly fresh fruit. Fruit concentrate is produced from filtering the water out of fruit pulp. The concentrate product is stored under aseptic, non-aseptic and frozen conditions. These methods have been historically used to optimize its transportation across the world, to then be re-constituted with the same volume of water that was evaporated from it, once it reaches the location of juice manufacture. Juice from concentrate is popular because fruit concentrate is easier and cheaper to store and transport than liquid juice.  
So contrary to popular assumption, fruit from concentrate is real fruit juice. But the negative of this manufacturing process is that vitamins and minerals can be lost in the water that is filtered out.
What does 'not from concentrate' mean?
The thing that makes not from concentrate (NFC) juice different from concentrate juice is the absence of the dehydration and therefore rehydration (sometimes called 'reconstitution') process. NFC is juice squeezed from the fruit with only inedible parts such as seeds and peel, and sometimes pulp, removed to obtain a 100% pure and natural squeezed juice. Like FC juice, NFC is routinely pasteurised. Pasteurisation allows consumers to buy a fruit juice product with a long shelf life and safe for human consumption. For unpasteurised juice you need to look to freshly squeezed or pressed.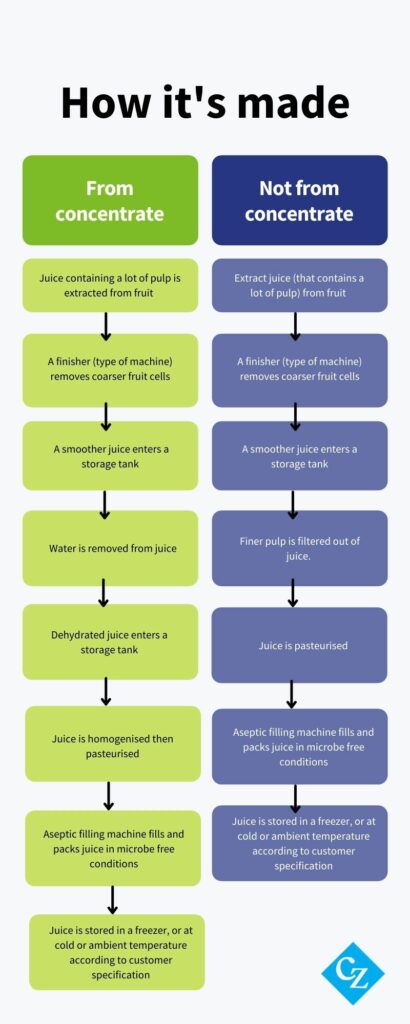 The categories of fruit juice
You may hear shunning of juice from concentrate because it 'has more sugar than juice not from concentrate' but that is not true. Fruit based beverages have categories:
FSFSS 'Freshly Squeezed' is completely natural, removing seeds and peel, 100% pure.
NFC Juice: Not from concentrate means squeezed from the fruit, edible parts removed to obtain a 100% natural product.
Fruit Juice Concentrate: is used by industrial processors in a distinctive recipe fit for each market's taste and brand with different fruit content, as follows:
CSD (Carbonated Drinks) contain between 1-3% of fruit on average, in some cases specific formulations of essential oils, aromas, sweeteners and water.
Drinks are categorised as a low fruit content product, average containing 3-10% of fruit, flavours, sweeteners and water.
Nectars vary depending on the legislation of each country and manufacturer preference, and can range from 20-45% fruit content, plus flavours, sweeteners and water.
A 100% juice made from concentrate is free from added sugars, in some cases preservatives are permitted.
Is not from concentrate juice healthier?
What is interesting about fruit juice is that it is sugars from a plant source dispensed in liquid, it does not contain the fibre that you get from eating fruit, but brands add the natural fibre in a later stage of production separately to increase the nutritional benefit of the beverage. Since micronutrients are retained in the liquid of NFC's, it could be considered healthier. However, the healthiness of a juice depends on various factors such as daily intake, the fruit itself and the brand of juice, as each manufacturer have different production processes and quality assurance.
Did you know: Based on the fruit content, some fruit juice drinks and carbonated soft drinks (soda) can provide high nutritional value. Fruit juice consumption is declining in some regions because of shocking headlines claiming fruit juice is bad for your health, but it's easier to make better choices when you know your recommended daily vitamin and sugar intake and how much of that you get from juice.
The world of brix in fruit concentrates
If you've read our blogs explaining molasses or nutritive sweeteners, you'll be familiar with this topic. Brix is the unit used to measure the solid sugar content in a liquid solution; 1 g of sucrose in 100 g of juice gives a brix value of 1%. Orange juice FC has a brix value of 64-66 while orange juice NFC has a minimum brix value of 11. Around 85% of the oranges the world grows are for making juice; August – January is the main orange crop period. 
The fruits concentrates and purees we trade are in our product brochure. If there is a fruit you want to know more about and are interested in trading, get in touch.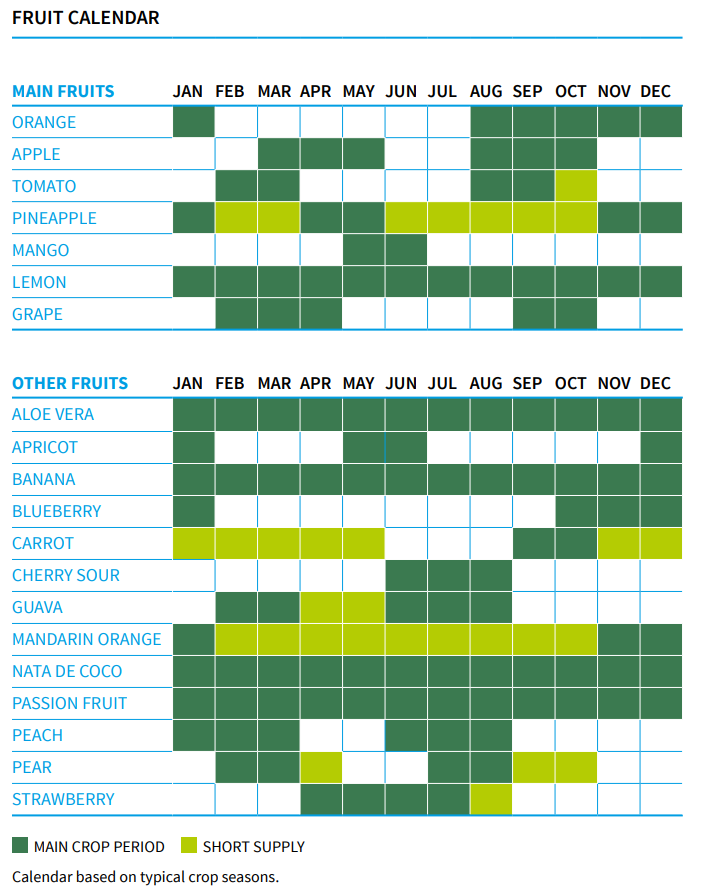 Global orange production for the 2021/22 season
Around 85% of the oranges the world grows are for making juice. Orange juice – whether from or not from concentrate – is the most popular juice around the world but extreme environmental events are posing problems for this season's crop. Brazil is historically the largest producer of oranges for eating and processing into juice. The frost and drought (the worst in 91 years) Brazil has faced this season have created a hostile environment for orange orchards. Our analysts at Czapp predict Brazilian orange production will be down 26.3 million 40.8kg boxes this season.
Meanwhile US orange producers narrowly avoided deep fallout from hurricanes in Florida, instead citrus greening affected the growth and nourishment of the plants, leading to smaller fruit. Florida should produce 52m boxes of oranges this season, down 800k boxes year-on-year.

Looking to buy, sell or move food ingredients?
How the fruit juice market is changing
Fruit juice has been a staple of the breakfast table for many households for decades and that is not set to change anytime soon. The global fruit concentrate market is expected to grow by 3.7% (CAGR) between 2022-28. Manufacturers are responding to consumers' desires for superfoods in their juices and more sustainable fruit production, which we facilitate through the VIVE Sustainable Supply Programme. There is also a rising demand for vegetable juices and smoothie blends with more vegetables. 
Czarnikow supplies many of the world's leading food and beverage manufacturers with food ingredients and packaging products, and provides price risk management. Want to start working with us? Complete this short contact form to tell what your business needs.
FAQ
Organic vs non-organic i.e., conventional fruit juice 
What counts as 'organic' produce varies across countries but generally, organic food and drink is made from plant or animal that did was not exposed to nitrogen fertiliser or pesticides. 
What's the difference between fruit concentrate and fruit juice concentrate?
Fruit concentrate is the extract of fruit skin that has been further concentrated through treatment with enzymes whereas fruit juice concentrate if the dehydrated form of juice extracted from a fruit. 
How is fruit puree different from fruit concentrate?
Fruit puree is made from the body (specifically the part called the 'endocarp') of fruits: the fruit is squeezed; the pulp is separated out and homogenised to make a soluble product. Fruit puree is growing in popularity among consumers hoping to satiate their sweet tooth with healthier foods.