How did VIVE come about?
In recent years sustainability has becomes a global priority, not only within the commodities sector but in wider private and public spheres. In fact, it gets mentioned so often that the meaning of sustainability can become blurred.
At Czarnikow, we take it to mean acting in a way that meets the needs of the present without compromising the ability to meet needs in the future. For us this is particularly important, as consumers are demanding more transparency upon where products come from. We work with clients that have complex supply chains, meaning sustainability is often a high risk for their businesses.
Back in 2015, sustainability was a new venture for us, but we quickly adapted to make it a key component of our business. As ever, we looked in-house to see what we could develop ourselves to meet growing consumer demand. We looked at other programmes, and wanted to build something more sophisticated with a commercially driven, continuous improvement, approach.
We began to work with AB sustain, as we recognised that their continuous improvement approach, already rolled out for tobacco, dairy and soya, would closely align with Czarnikow's strategy of aiming to constantly look for improvement. The relationship was well matched, with AB sustain bringing their technology and experience in developing and running sustainability programmes, and us providing a commercial aspect and wealth of relationships. Together, we created the VIVE Programme.
Sugar and sustainability
It's clear that sustainability has been a global priority across many commodities for years, but why has it taken so long for sugar to enter the playing field?
Whilst a range of sustainability programmes have been in place since the late 90s for a number of agricultural commodities, sugar has been largely forgotten.
In sugar's absence, the spotlight was taken by commodities such as coffee, cocoa and Palm. These products have dominated the headlines, subsequently driving various MNCs to pay attention to their supply chains. With commodities such as coffee, there is a very clear relationship between the producer and its supply chain: there is no disguising the fact that coffee's key ingredient is coffee. However, with sugar being a less obvious ingredient, the sustainability of sugar has largely avoided the headlines.
However, this is changing quickly and sugar is now a key component of the sustainability sector. This change has been largely led by a change in the procurement strategies of various multinationals, through responsible sourcing commitments. Growing numbers of multinationals are now insisting that they have full transparency and traceability on their raw materials, so that they can ensure that their business meets the Corporate Social Responsibility commitments of their owners and shareholders. For example, The Coca-Cola Company has committed to sourcing 100% of their sugar 'sustainably' by 2020.
Therefore, if a business wishes to continue to supply The Coca Cola Company and a variety of other multinationals, it must be able to supply them with sustainably soured sugar.
How does VIVE work?
VIVE is for businesses that want to do more than just tick a box for sustainability: they want to participate because they know that it is key to their continued growth, commercial success and the future of our planet. Our assessments look closely at each stage of the supply chain; we recognise that the entire supply chain needs to be held to account if we are to have certainty over a product's sustainability. That's why we designed the Vive programme to be able to operate along the whole supply chain, from producer to end-user. When assessing a participant, we look for data according to Vive's five Pillars. These five pillars, when used in combination, cover all of the activities that contribute to the sustainability of the business as a whole:
Governance and policies. We look at what policies are in place, and how these fit with sustainability across the business – for example farmer contracts and procedural recording.
Company Facilities. We examine the structures put in place to allow sustainable practice, for example health and safety in the workplace.
People. We take into account the human impact of the business, and identify any areas that are not satisfactory. This covers issues such as child labour, forced labour and working conditions.
Environment. We look at the impact on the planet, which with a crop as water-intensive and heavy to transport as sugar becomes very important. We look at waste, water consumption, pollution and many other elements.
Traceability. We explore ways in which a client can increase visibility about where the sugar has come from.
We look at the farms, facilities, shippers and forwarders involved the supply chain to ensure that no stage is left open to risk. As the needs of each client are different, we also can tailor a programme to look in particular detail at a certain aspect.
So we know the criteria, but how do we carry out our assessments? Well, as we recognise that participants will be at different stages of their sustainability journey, we have created three steps that create a gradual path:
Step 1 – Foundation Level
This step offers a simplified entry level for participants who are new to sustainability. With 50% coverage of the programme's entire scope, we will cover the key sustainability principles and support the client to work towards a more sustainable future.
Step 2 – Claim Level
Including 75% of the programme's entire scope, at this level, participants are able to attain a VIVE Claim Award, rewarding a business for its sustainability achievements and covering industry standards.
Step 3 – Excellence Level
This step is for those who are seeking to excel in sustainability. Participants are able to attain a VIVE Excellence Award, offering a unique level of differentiation that stands businesses apart and allows them to go above and beyond standard requirements.

All three steps follow a similar assessment cycle:
Self-assessment – the client answers a set of detailed questions according to which module they are participating within.
Independent assessment – this self-assessment data is then verified by an on-site assessment conducted by a third party assessment company.
Remediation plan – short term corrective action plans to drive improvement.
Assessment report – provides a full breakdown of a participant's results.
Improvement plan – sets goals for continual improvement throughout the upcoming year.
We have worked hard to create a programme that seeks out excellence, drives improvement and is also straightforward for the participant to take part in. The VIVE team remain on-hand to support participants at every stage of their journey. The programme has had great success to date, and we are now working in Brazil, Canada, South Africa, Saudi Arabia, Egypt, Mauritius, Malaysia, Indonesia, Australia and Thailand.
What sets VIVE apart?
Continuous improvement
Continuous improvement is a key point of differentiation between VIVE and many other sustainability programmes. We wanted to move away from the pass/fail binary seen in other programmes, and were keen to build something more comprehensive. The focus on continuous improvement allows a wider range of participants to enter the programme, no matter how far along they are in their sustainability journey.
This allows VIVE to work with a variety of supply chain participants, ranging from large-scale Brazilian milling groups to smallholder farmers in Africa. What we focus on for all parties is how they could be doing better. This promotes forward thinking as a key component of sustainability, by always asking the question not only how we are doing, but how could we be doing better.
With continuous improvement, the idea is that you don't stop striving to improve just because you've reached a certain standard. Current information on human impact on the planet leaves us with two options: ignore the increasing dangers, or act to make change. We want a future, so will be supporting the second rather than the first option. With this in mind we are always looking to improve sustainability, and VIVE allows our clients to do the same.
A broader view
Most sustainability programmes focus on the farm and the mill, however VIVE covers the entire supply chain. Through this unique approach, we are able to carry out thorough assessments of supply chains and identify the areas where improvement is required. By doing this, we reduce risk for end-users by increasing assurance upon VIVE products.
A benchmarked programme
VIVE is able to act as an 'umbrella' programme, benchmarked against other sustainability standards. This allows one VIVE assessment to meet the requirements of many programmes at once, therefore reducing 'audit fatigue' across the supply chain. Have a look at the table below to see how VIVE incorporates benchmarks from other popular programmes: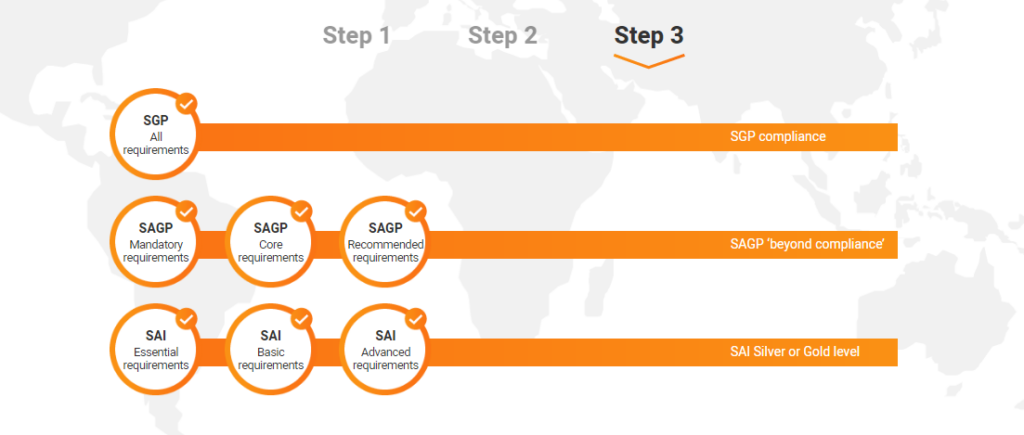 A commercial approach
Through VIVE we set out to deliver sustainable improvement alongside commercial results. This is manifest in our partnership with Rabobank. Through this partnership, we are able to incentivise sustainable improvement by offering participants who achieve the VIVE Claim and Excellence levels discounted finance rates. Through this initiative, we aim to incentivise potential participants to go beyond the foundation level and embrace continuous improvement while financially rewarding them for their commitment to sustainability. Our ability to offer discounted funding will incentivise more participants to reach the Claim level and/or Excvellence level, therefore complying with the sustainability demands of a broader range of end-users. This strengthens the commodities sector as a whole, allowing for more sustainable resources to enter the market.
Working for small and large alike
Fragmented agriculture in many geographies has created a particularly pressing challenge in many geographies. It is difficult to get a clear view of many small suppliers when compared with one larger supplier. For example, thousands of smallholder farms producing sugar in India are more difficult to regulate than a mill in Brazil that may own its own farms.
This is why have also developed the VIVE Smallholder Programme, which has been created to enable smallholders to demonstrate compliance with the sustainability requirements of consumers. The aim is for these smallholders to embark on a journey of continuous improvement, allowing them to do business with a wider base of clients.
The programme works with smart technology to make data collection at a farm level cost effective, and uses remote in-field data capture via smartphones that is uploaded onto a cloud based system. Participants can use the VIVE Smallholder programme to demonstrate 1-2-1 relationships with supplying smallholders, consistent data capture and evidence of sustainability and basic compliance with The Coca Cola Company's SAGP, for example.
A flexible, multi-commodity approach
The programme is tailorable, as previously mentioned, and can also be used for a wide range of products. Already we have received interest from large fruit producers and processors, and as the programme is not restricted to sugar alone we hope to continue to diversify the products we work with. This will make it easier for companies that work with multiple raw materials.
A multi-commodity approach will enable many of our end-user clients to adopt a standardised approach to sustainability across the board, enabling cross-commodity reporting and KPI comparisons.
Looking ahead
As sustainability becomes a priority for more and more businesses in the face of global transparency and climate change, we look forward to continuing to promote sustainable practice across supply chains. If you would like to find out more about VIVE, please visit the website and get in touch.
Author: Carys Wright, Content Writer