The VIVE Programme was first created in 2015 as part of Czarnikow's initiative to incorporate sustainability into supply chains and become industry leaders in creating a more sustainable future. With the increasing amount of focus placed on environmental protection in recent years, particularly on the fight against climate change, sustainability has become an extremely pertinent factor to consider in business. The development of VIVE has enabled our clients to follow a sophisticated, voluntary programme which covers all operations and activities from producers through to consumers whilst upholding a focus on sustainable improvement no matter how complex their supply chain.
At Czarnikow we constantly seek to improve and adapt our approach to both global and consumer demands. With everchanging economic structures and global development it is important that VIVE remains up to date with current events and market requirements so that we can offer the best programme possible to our clients. As sustainability has now been promoted to a priority by many businesses, we also saw new opportunities to fine-tune our programme. This is how the development of VIVE 2.0 began to take place.
What's New?
We are pleased to announce that version 2.0 of the VIVE programme was distributed to existing participants in January 2020. In this article we aim to indicate the key aspects of the new version and highlight all the improvements it brings to the programme and its participants.
Flexibility
Flexibility has always been at the epicentre of the VIVE programme, demonstrated through the various levels which our clients can opt to participate at: Foundation level, Claim level and Excellence level.
VIVE recognises the need to tailor the programme to the client, as undoubtedly each participant will be at different stages in their sustainability journey and will therefore prioritise different issues.
With flexibility being so crucial to the programme, VIVE 2.0 has continued to drive forward improvements on the programme's ability to adapt and make everything as straight-forward as possible for our participants. Many buyers have sustainability focus areas, therefore VIVE is able to adapt to report on these areas and, on buyers' request, to incorporate additional questions. Being flexible remains key in the sustainability sphere due to the consistent changes regarding the 'hot topics' of focus. This is acutely seen today in the Coronavirus pandemic, which has placed a large emphasis on workers' health and disease prevention.
Expansion

VIVE has been expanded into a multiple ingredient offering programme with the launch of VIVE 2.0. VIVE industrial buyers and retail clients can now directly benchmark and compare the sustainability of differing ingredients under a single umbrella programme. By allowing our supply chain participants and buyers to use one sustainability programme across various commodities, our clients can standardise their sustainability reporting as well as their KPI comparisons, which in turn increases their efficiency.
Quantitative and Qualitative Data
Today, many multinational companies are required to report on their sustainable sourcing targets against recognised global targets such as The United Nations Sustainable Development Goals. Quantitative and qualitative data is collected in the VIVE 2.0 reports and is then mapped against certain sustainable development goals. This data provides participants with the evidence that they require to report on their continuous improvement journeys and creates good news stories for them.
By including this additional data, benchmarking between peers is enabled as well as demonstrating annual improvements via key performance indicators. Updating our reporting platform maximises the value of participation within the VIVE programme by creating data and insight dashboards without limiting responses to qualitative only reporting.
It is also important to note that VIVE is much more than merely a way for businesses to tick a sustainability box, participants understand that the programme is key to identifying gaps in their sustainability journey and encouraging improvement thus enhancing their commercial success.
Visibility
VIVE 2.0 also offers more visibility to our clients upon the evidence required to achieve compliance to sustainability standards. By providing clear guidance on how to reach and maintain requirements, the programme enables participants to fully understand specified buyers' standards.
VIVE's assessment process has also been streamlined in order to reduce questions by 30%. This redaction has been constructed in a way which has no effect or impact on the programme's existing benchmarks nor diminishes the holistic view to supply chain risk that makes VIVE so unique.
One of the current stand-out future sustainable supply trends is the need to demonstrate greater transparency throughout the entire supply chain regarding both the sourcing of ingredients and the applied assurance standards. Therefore, the programme's recently updated farm and facility criteria have also been published on the VIVE website in order to increase visibility upon the programme's coverage. This provides all interested parties as well as existing participants with access to the full breadth of VIVE's content. In this way, VIVE can facilitate the further support of its buyers and supply chain participants so that they can pro-actively engage with their supply chain partners and deliver their sustainable supply programme reporting with more precision and transparency.
Impact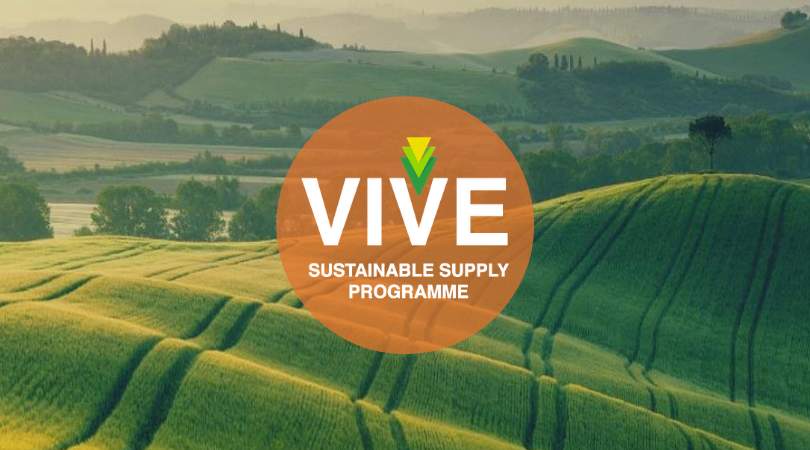 As we aim to continuously self-assess, adapt to change and improve our programme, it is of course essential that new versions of the programme are released as and when necessary.
Certainly, along with change there comes the question of impact and VIVE understands how existing participants and potential participants may question what the effect will be of shifting to a new version of the VIVE programme. The fundamentals of VIVE 2.0 remain the same as version 1.2, so no new rounds of training are required. That being said, refresher training can be provided however upon request as we want our participants to feel as supported as possible. The programme still operates in the same way and any changes have been made to aid, not hinder. It is therefore not necessary to entirely overhaul any VIVE implementation strategy, minor realignments may be required but this is ultimately in order for our participants to extract as much value as possible from the VIVE programme.
Looking Ahead
Our intention is to consistently improve the programme's performance for our participants. It is essential to stay with the times, particularly when specific sustainability focuses can fluctuate and so readily change even from month to month. We aim to release a new version of the VIVE programme every 3 years so that we can ensure our programme is operating on an up to date basis whilst at the same time allowing our participants to acclimatise to change thus making the evolution of the programme more manageable. Maintaining year on year comparisons of participant performance remains critical to the growth of the programme therefore any changes conducted are put in place in order to secure our comparative ability. Going forward, we will deepen our promotion of sustainable practice across supply chains and remain on-hand to help our participants reach their sustainability needs with consistent support and continuous improvement. If you would like to find out more about VIVE 2.0, please visit the website or get in touch with the team.
Author: Betty Rook