In February 2017 the world prices of raw sugar fell below 20c/lb (USD) for both the No.5 and No.11 futures contracts, a change largely attributed to growth in India's and Thailand's sugar production capacity1. Signs of a sustained recovery only started appearing in 2019 – the begin of a crop year in which the global sugar market experienced a deficit of 7 million metric tonnes (MMT).
Sugar trading continues to be influenced by shifting weather conditions, currency fluctuations and legislation by the major sugar producers. Here we rank the biggest sugar producers referencing the 2019/20 crop year and share leading sugar market analysis. But first…
How is sugar made?
Sugar comes from two key crops: sugar beet and sugarcane which are grown in different climates across the globe. Sugar beet thrives in colder, wetter weather. Sugarcane is the opposite: it thrives in warm, tropical areas and has been dominating the sugar market for centuries. You can read about how to process beet and cane in other entries, and the bigger question, what is sugar, is answered across the rest of our sugar series blogs. 
Did you know that the most popular species of sugarcane, Saccharum officinarum, is a grass?
Where is sugar grown?
The southern hemisphere is home to the world's largest producers of sugarcane. As you can imagine, extreme heat and a lack of rain leads to drought, which reduces the volume of cane that can be harvested. Yet this isn't all bad news; such weather may lead to far smaller cane crops, but the extreme heat can increase the sucrose yield from the cane.
On the other side of the equator are Russia and Europe, the largest beet-producing regions. Adverse weather conditions like flooding, freezing and snowfall put the crop at risk of stunted development.
Map of Cane and Beet Producing Regions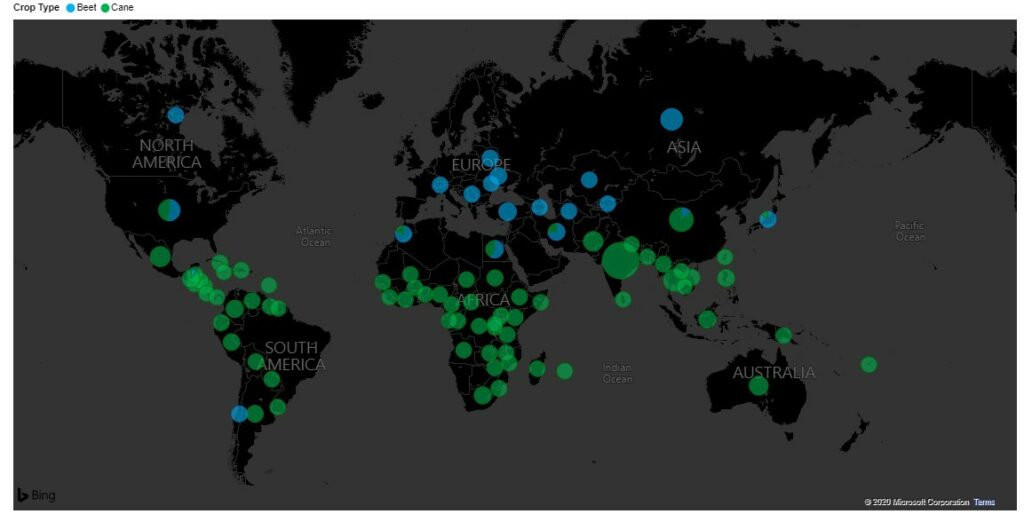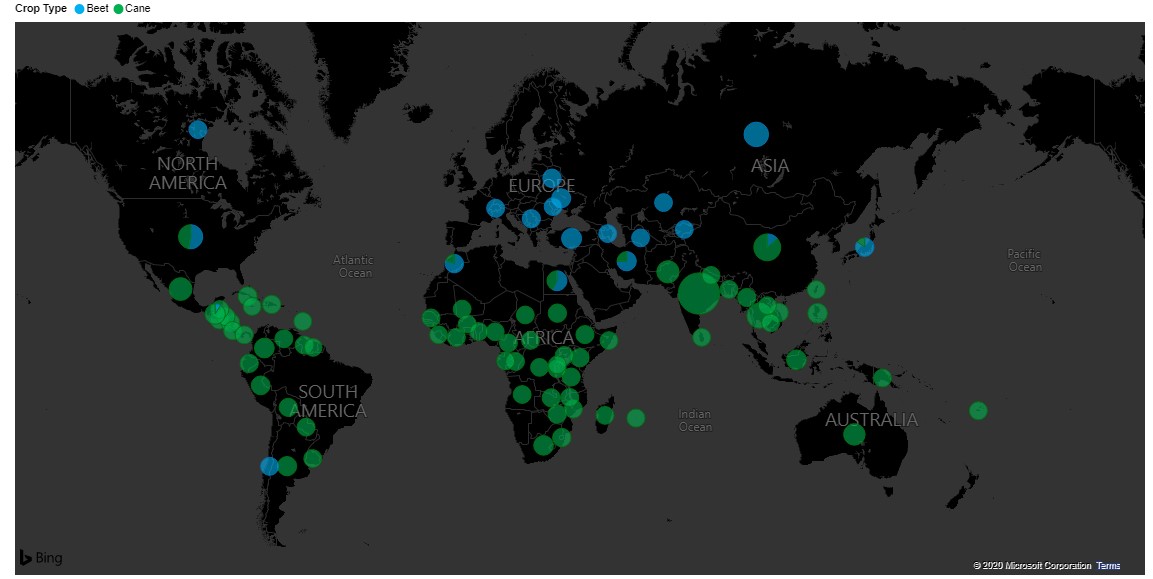 Top Ten Sugar Producing Countries
In the 2019/20 crop year the world produced 161.9m tonnes of sugar; here are the top 10 contributors to that total:
10. Australia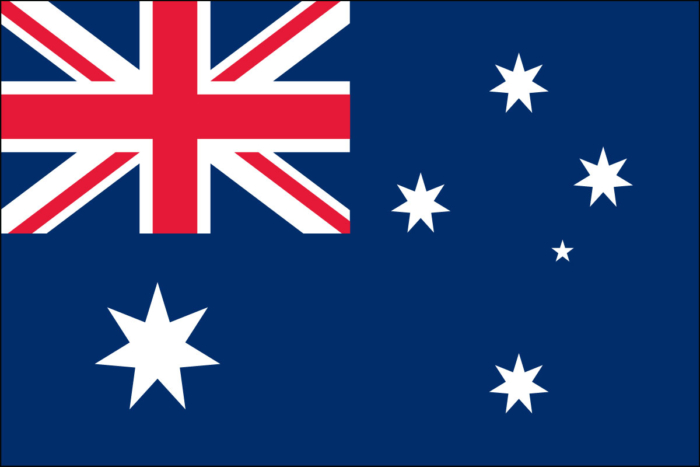 When you think of Australian agriculture sugar probably is not the first crop to come to mind (which is fair since sugarcane is only 2% of the national agriculture) but Australia is the largest producer and exporter of raw sugar in Oceania and produced 4.18 MMT of sugarcane in the 2019/20 season.2 95% of Australian sugarcane is grown in the climactically diverse state of Queensland, which hosts many cane farms near its coast.
With the domestic market for raw sugar only being 1 MMT,3 Australia has to export 86% of its sugar, most of which goes to Japan, Indonesia and South Korea. However, exports have become less favourable because of the drop in sugar prices.
Many Australian mills have adopted the sustainable practice of using bagasse, a by-product of cane crushing, to power their boilers in a process called 'co-generation'.3 Czarnikow has successfully facilitated the implementation of co-generation in various mills in Brazil and continues to trade in the Brazilian energy market – the second largest in the world.
9. Pakistan
Sugarcane is a major cash crop for Pakistan and, unlike India and Brazil, Pakistan grows the plant almost solely for the purpose of sugar extraction. In 2019/20 the nation made 4.8 MMT of sugar – a 9% drop from the previous season. From 2016/17 to 2019/20 Pakistan saw year-on-year decline in its sugar output. Many challenges have faced Pakistan's sugar industry, namely drought. For an agrarian economy like Pakistan, with a cane yield per hectare smaller than the world average (46k verses 60k, respectively), this is a serious problem. Although, rain in August 2020 saved the season's crop.
In February 2021 Pakistan's sugar prices rose as predictions of overall output being 200k tonnes less in 2021/22 than the previous season influenced speculative action in the market. Simultaneously, the Punjab government accused mills of restricting sugar supply to drive up prices, while mills proposed sugar smuggling to Afghanistan as the culprit. The cause of such a crisis is not always clear, but we do know that 2020 was the first year since 2010 that Pakistan had to import raw sugar. Fortunately, Pakistan looks like it is on track to exceed its 2019/20 output by the end of this season.


8. Mexico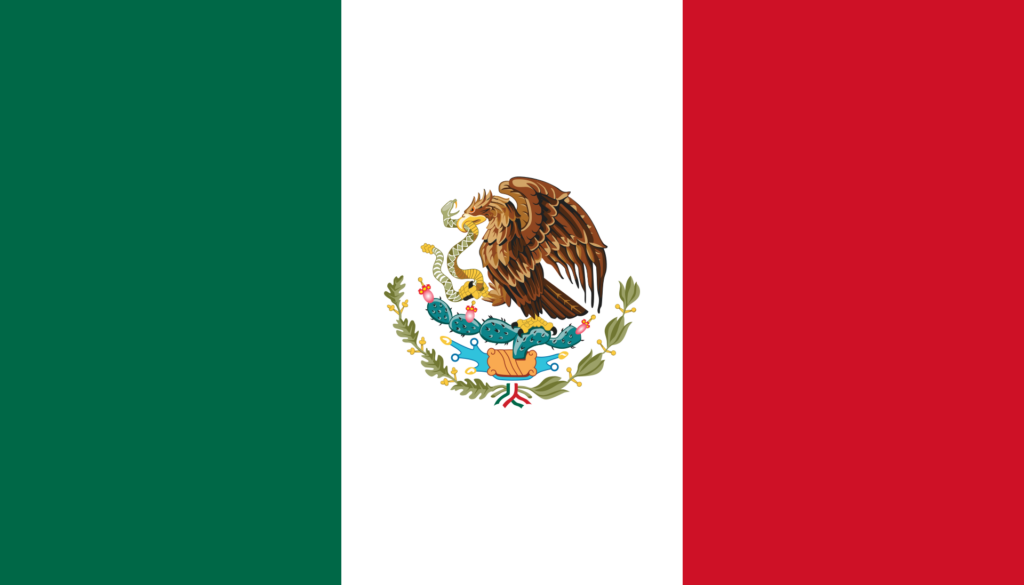 In 2019/20 the United Mexican States (the official name for those previously unaware) produced 5.34 MMT of sugar, although this is 17% MMT less than the previous season. Poor weather is largely to blame, and the cane rebound is ongoing. Mexico's Gulf states Veracruz, Oaxaca and Tabasco are its top producers. Although it is the only Central American country on this list, Mexico is the runner up for exports, falling behind Guatemala by 630k tonnes.
The nation's sugar industry is struggling to compete as the demand for high-fructose corn syrup (which has replaced cane sugar in the famed Mexican Coca Cola) rises. A record drop in domestic sugar prices by 18% caused Mexico's cane farmers, predominately in Veracruz, to strike in February 2021.
Mexico's production has stabilised in over 2019/20 year but its exports this season will largely be decided by the US demand because of the US/Mexico Agreement4. So far Mexico has already produced 1.16 MMT more in 2020/21 than it did in the last season. We'll see if it's ranking changes at the end of the season.
7. The USA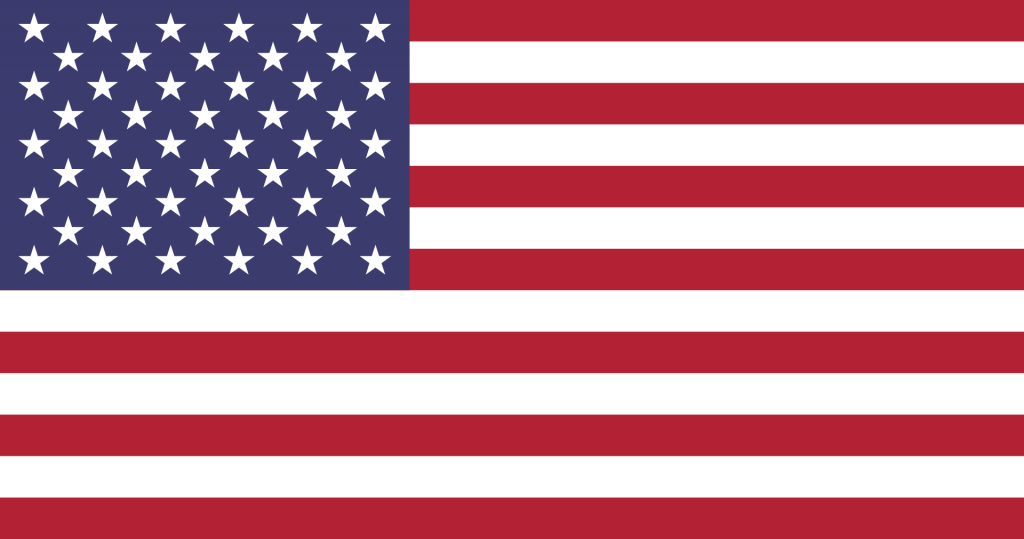 This cane and beet producer is not only a major player in the sugar market, it also dominates ethanol production albeit generated from corn instead of sugarcane. In 2019/20 the USA produced 7.3 MMT of sugar. Beet is grown in the northern parts whilst cane is grown in the South-eastern states. 
Despite its place on this list, the US sugar market tends to fly solo as the protection of domestic farmers' income is generally prioritised over cheaper imports. Many debate if this benefits the country overall with some arguing that the US sugar price is artificially high. The cost of domestic sugar has remained relatively stable for decades and is traded using the No.16 futures contract.
The USA has always imported significant volumes of sugar as part of its international commitments but adverse weather in late 2020 and preceding years increased the volume of imports. In 2019/20 the USA had to import 3.1 MMT of raw sugar to meet domestic demand.
6. Russia

This nation is the largest producer of sugar beet and in 2019/20, far outproduced France (the EU's top beet producer) and increased its output by 27% compared to 2018/19. Russia has been doubling its sugar production over the last decade and plans to expand its beet sowing area this year.
However, the Federation is new to exporting sugar. Compared to its production boom, exports were not as smooth sailing, at first, because Russia's prices are too high to compete on the world market. However, Russian sugar exports soared in June 2020, amid worldwide national lockdowns. Most of its exports went to Uzbekistan, Azerbaijan, Kazakhstan, Tajikistan, and Turkmenista5. Toward the end of 2020, Russia's beet crop took a turn for the worse and threatened molasses supply.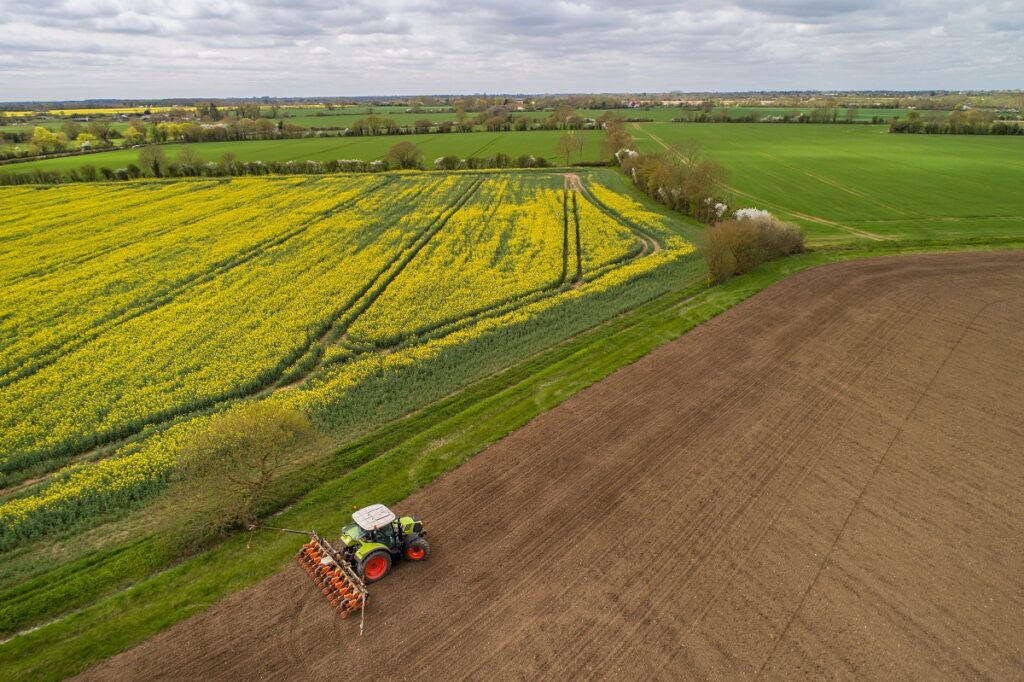 5. Thailand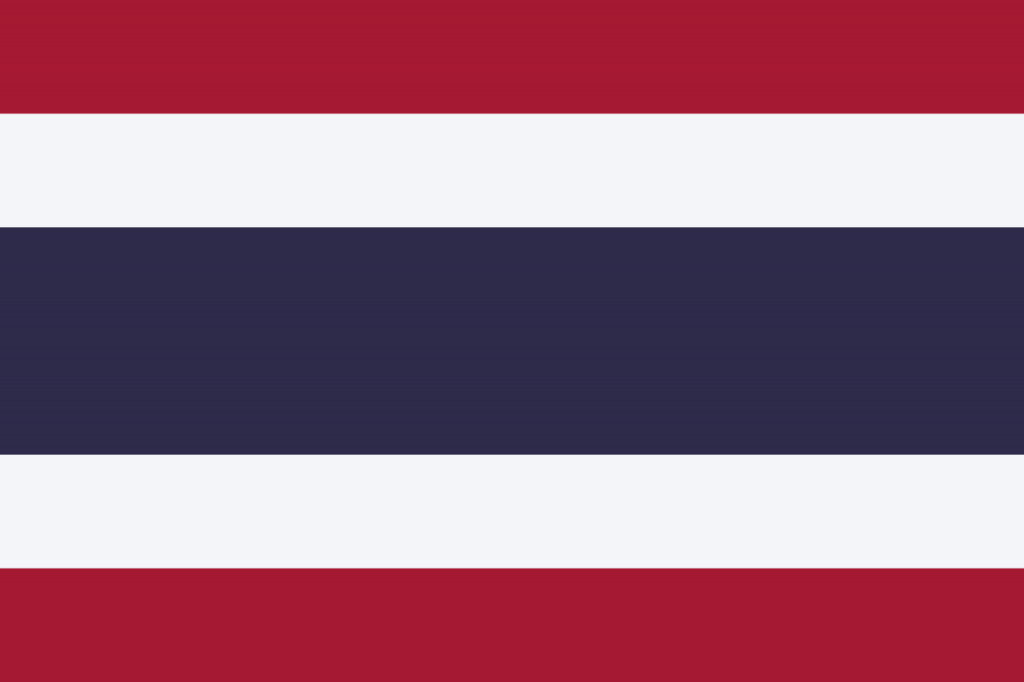 In 2019/20 alone the world's second-largest exporter of sugar after Brazil, exported 7.7 MMT of the 8.27 MMT of raw and white sugar that it produced. The north-eastern and central regions of the nation account for approximately 70% of the (mostly raw) sugar produced.6 Most of Thailand's sugarcane is harvested manually because the machinery for needed for mechanised harvesting is not economically viable for many small farmers.
The 2019/20 season was particularly tough for Thailand's sugar industry as it was hit with possibly its worst drought in four decades,7 and reduced cane acreage which brought cane production to a 10-year low. This caused farmers to switch to more profitable crops, notably cassava, and meant that output in 2019/20 was only 57% of the output from the previous season. The drought persisted even in the 2020/21 season. But good news: more rainfall this season and has led to 4.03 MMT more sugar production in 2021/22 compared to 2020/21.
We think the Thailand sugar industry will crush 100 MMT of cane in 2021/22, up 20% year-on-year. As mentioned earlier, weather affects sucrose yield; Thailand's 2021/22 yield stands above its five-year average at 11.33% because of very dry and cool conditions in November and mid-December. To track crop progress head over to Czapp.


4. China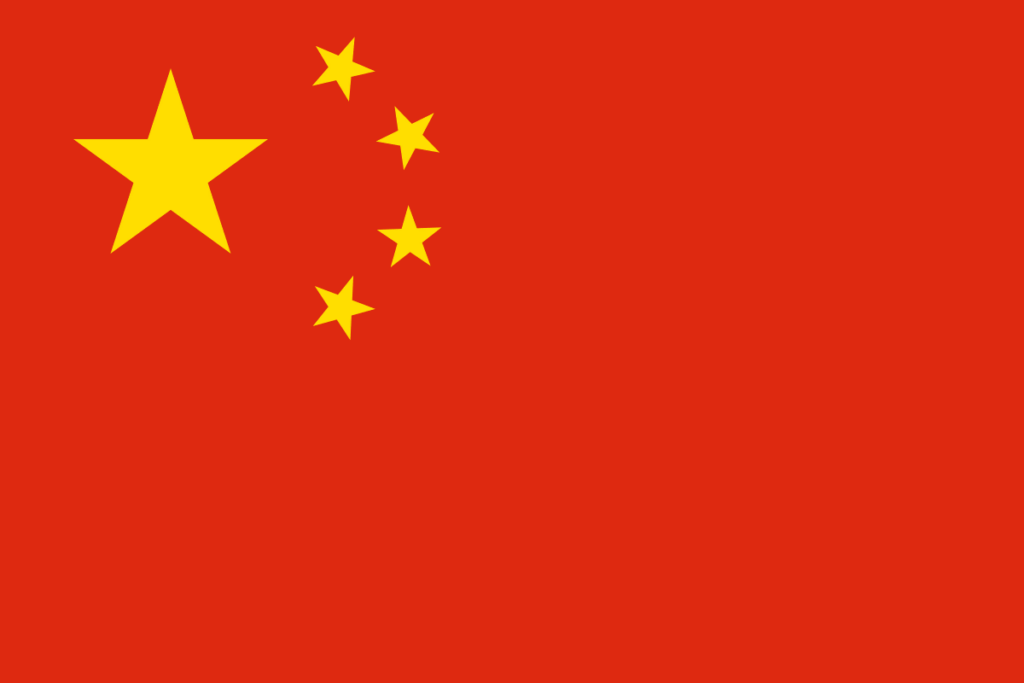 Only eight countries in the world produce both sugarcane and sugar beet and China is one of them. In 2019/20 China produced 10.41 MMT of sugar.
Guangxi, an autonomous region in the nation, accounts for 65% of China's sugar production and over 20 million workers in cane agriculture. Droughts and floods threaten harvests in the region and in 2009 a historic drought caused production to drop to 2.15 MMT. Since then, irrigation has been introduced in attempts to control water levels.8
The manual cane harvesting process that China opts comes with increased labour costs that have reduced production over the past decade. China is now playing catch-up as it tries to mechanise to a larger degree, a step that could place it in closer stead with producers across the globe.
Despite being the third-largest sugarcane producer, China still has to import to meet its domestic demand (it is the most populous country in the world after all). However, in March 2021, China's Ministry of Commerce announced that it will not be issuing import licenses until the end of the month in a bid to drive domestic sugar sales. Safeguarding of sugar imports into China has been ongoing since 2017,9 so, this is not exactly shocking news. Still, we expect that China will meet its import quota of 1.945m tonnes (for the second time ever) because it is rotating 15-20% of its 6 MMT reserves with new crop sugar each year.
3. Europe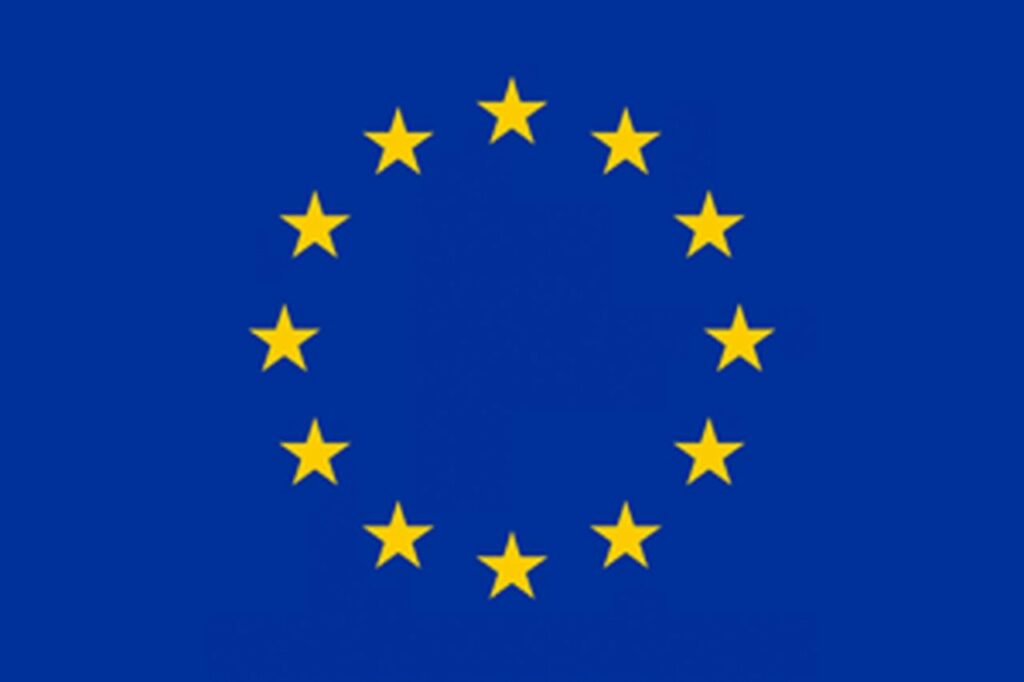 The EU is the world's largest producer of beet sugar. However, beet only represents around 20% of the world's total sugar production; much of this growth is in the northern half of Europe, where the climate is more suitable. Notable regions include France, Germany, the Netherlands, Belgium and Poland. On top of beet production, the EU also refines imported raw sugar, only to a much smaller degree.
Until October 2017, the EU had a production quota of 13.5m. Once the quota was removed production shot up to over 21m tonnes, which led to a dramatic rise in white sugar exports by 252% in 2017/18.10 Hopes of the EU becoming a major whites exporter were dashed when sugar prices dropped and caused farmers to reduce their beet acreage. The situation was further compounded by the beet yellow virus that has been plaguing European beet crops since 2020. Whilst the use of neonicotinoid insecticides to remove the virus carrying-aphids is currently prohibited in the EU and UK. Due to the crisis, France, historically Europe's largest, has suffered a 10-year low in beet production, down 1.2 MMT year-on-year. Germany and Poland's sugar industries are likely to have a troubling year as neonicotinoids are still banned in those countries. Despite these conditions, the EU-28 still managed to produce 17.4 MMT of sugar in the last season which is just on the lower side of its average production since 2017.
Europe will remain a net importer of white sugar for the foreseeable future, and you can expect to see the UK favouring low-cost imports from countries like Belize, Guyana and Fiji. From January 2021, the UK set an autonomous tariff quota on imports to 260k metric tonnes; the UK's Department of International Trade states that "these imports are unlikely to impact domestic beet growth".11
2. India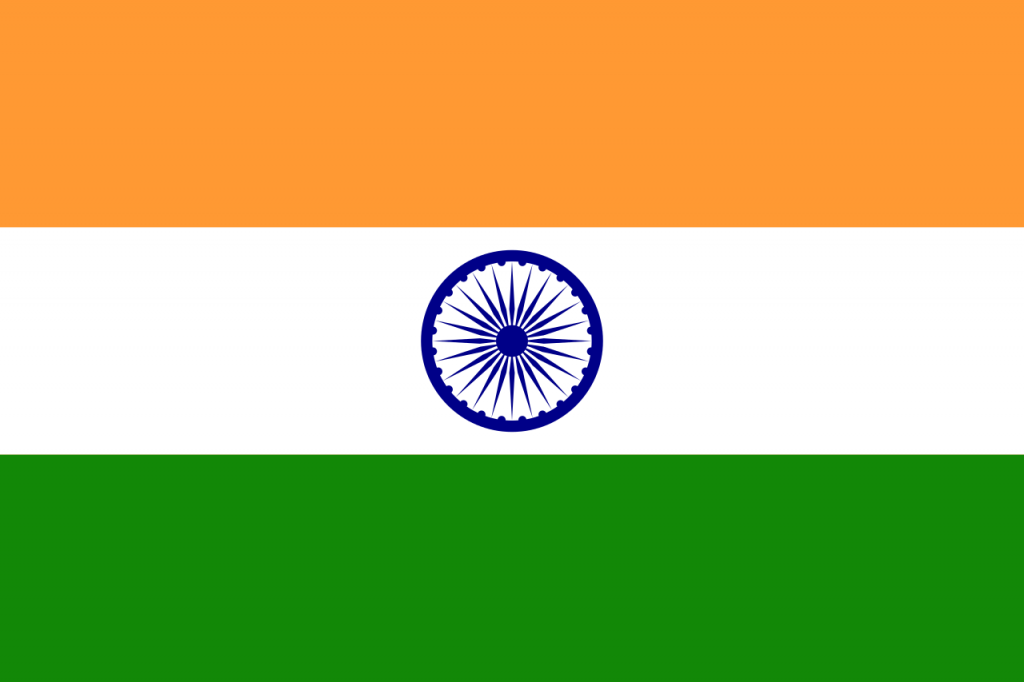 The world's largest consumer of sugar, and the top producer in 2018/19, India now produces around 30m tonnes annually. In 2019/20 India made 27.4m tonnes and most of it was low quality white sugar. The nation's massive consumption and production makes for a very large sugar industry, with roughly 50 million farmers and millions more workers involved in sugarcane farming. For this reason, the nation has been a surplus producer for almost a decade [see Table 1].
Uttar Pradesh, Maharashtra and Karnataka are the key production regions, with approximately 500 operating mills spread across them. In the 2019/20 season they were responsible for 82% of total production. As of March 2021, India is headed for the second-highest production on record (read all about this on Czapp).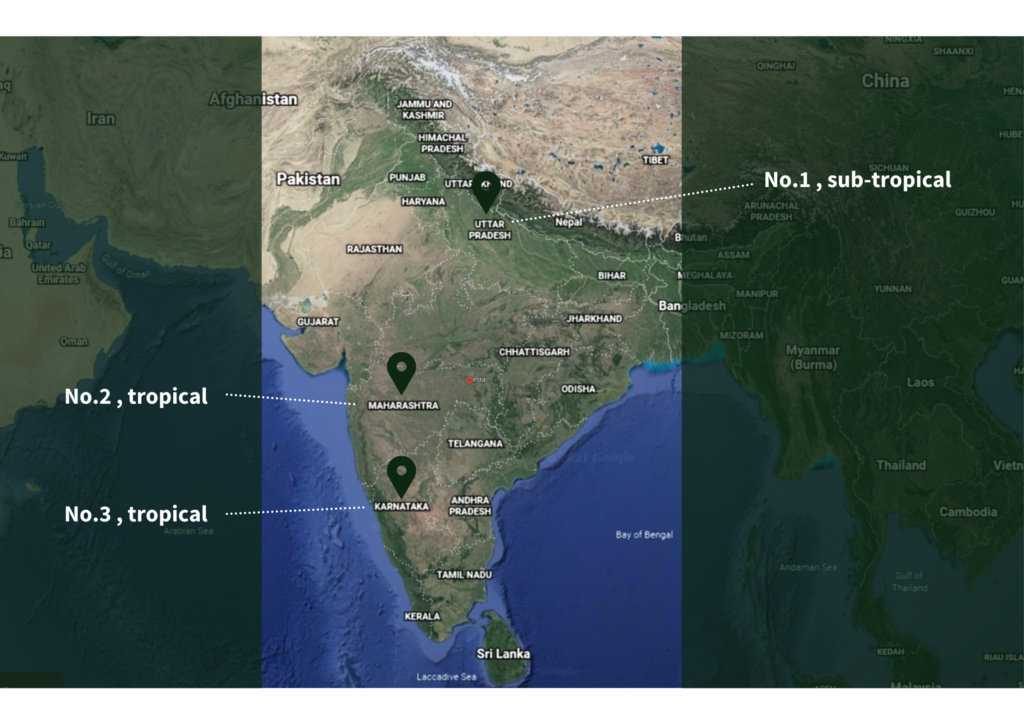 We mentioned earlier that the rise in India's cane production and flooding of the market dropped sugar prices across the world. This change was caused by the Indian government controlling export flows and domestic stock, and incentivising exportation through subsidies that guarantee farmers and mills a minimum price for sugar. But this response to the cane surplus is at a cost to domestic consumers who pay more for sugar than foreign importers. Exports become inviable when the world sugar market prices are too low. No wonder competitors like Australia, Brazil and Guatemala, who cannot compete with subsidised exports, are contesting the initiative through the WTO.
1. Brazil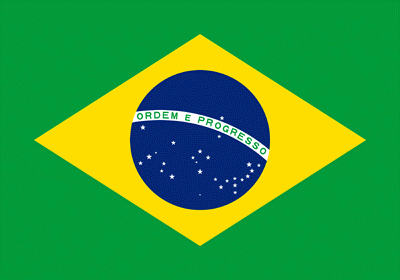 The number 1 spot goes to the country that has historically been the world's largest producer of sugarcane. The South American giant produced 29.61 MMT in 2019/20, and this was a crop when production mix was not even maximized to sugar since the sweetener returns were less attractive than ethanol – more on this dynamic further later.
Center-South (CS) Brazil), the region responsible for 90% of the nation's production, experiences a lot of rainfall. The region stands out for having ideal weather for cane development, appropriate environment for cane culture and a robust transport network. The combination of favourable factors allows for a volume of cane processed close to 600 MMT.
It's also worth noting that while India mainly exports low quality white sugar, Brazil primarily exports raw sugar and a Brazilian invention called 'VHP raw sugar' is the most popular raw in the world.12 Around 65% of CS Brazil sugar production is made up of the raw VHPs, with the remainder being a combination of crystal and refined sugar that is mainly consumed domestically, and the balance exported.
In Brazil sugarcane is not just crushed to produce sugar, it is also used for ethanol. and it is this flexibility that keeps Brazil's sugar market dynamic. Mills will switch between making more sugar or more ethanol depending on the returns offered by each product. Depending on the price dynamic, we have seen CS production swing by approximately 10m tonnes from one season to the next.
For instance, in 2020/21 Brazil sugar was offering returns significantly above ethanol (around 300pts) prompting the mills to maximize sugar production. CS Brazil's region should see a total sugar production of 38.4 MMT – almost 12 MMT higher than in 2019/20, when ethanol offered more attractive returns.
If you are keen to know more head over to this Czapp article for more. Czarnikow is a leader in Brazil's ethanol and sugar industry and successfully manages trades with some of CS Brazil's largest mills.
It's worth remembering…
As the world turns, so does its market. Changes tend to occur on seasonal basis, if not more frequently. Adverse weather conditions, new or modified governmental policies, and global pandemics can have detrimental impacts on a country's sugar production and trade flows.
For daily coverage of sugar supply, demand, trade flows and price movements you can sign up to czapp.com for free today.
FAQs
Will the Indian farmers protest pose a risk to sugar?
Currently the new policies will not affect sugar because Indian cane farmers sell directly to Indian mills. Cane has never been sold within the country's Agricultural Produce Market Committee, and farmers are well paid because of measures taken by the Government. But the new policies could foreshadow more changes in Indian agricultural legislature overall. 
Can India export today?
This may sound like a weird one considering what we've said about its export flows, but this question has been popping up  because the whole shipping industry is facing container shortages. Since February is the prime for India to export because the monsoon that happens later in the year makes logistics more difficult, whether India can export whites and or raws is questionable.  For updates on the likelihood of exports, visit our tracker. 
Will Brazil make more sugar or ethanol this season?
This is a difficult one to answer because there are many factors influencing this, but we update on the likelihood of each in our weekly 'CS Brazil: sugar or ethanol?' opinion pieces on Czapp.
If there is too much sugar in the US and the problem Is now how to limit supply, why is the No.16 reaching recent highs? 
The No.16 is mostly used to hedge raw sugar imports under the Mexican quota and Tariff Rate Quotas (TRQs). Therefore, the recent highs could be because the buyers (the refiners) have hedged their exposure, knowing a certain amount of sugar would be coming their way from Mexico, but sellers in Mexico have not started selling into this yet. On the other hand, the market also needs to make sure TRQ imports are still competitive for importing countries, especially with the rise in the No.11. 
Production, consumption and trade flows for the 2019/20 crop – more on the international sugar trade in our interactive data section on Czapp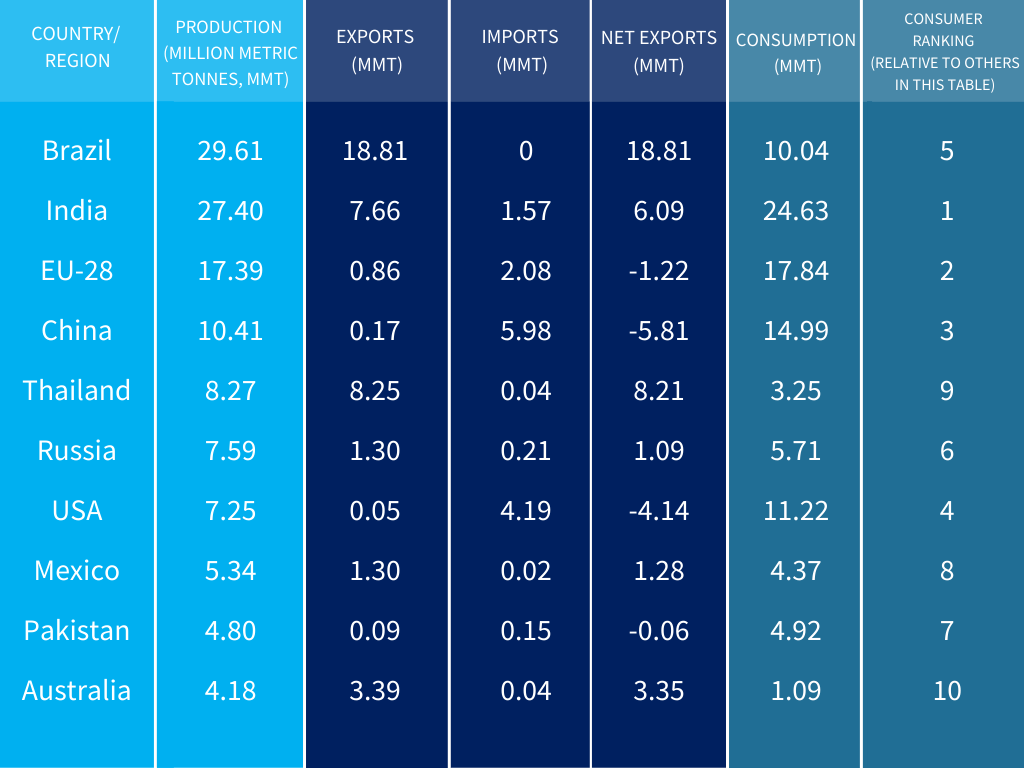 Volumes of sugar countries exported in 2019/20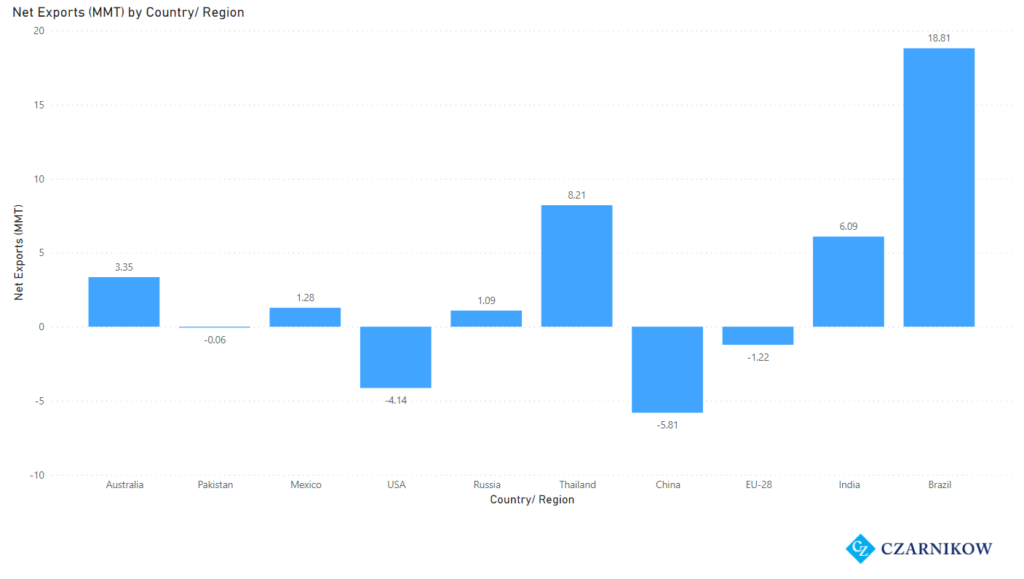 Where the world's sugar came from in 2019/20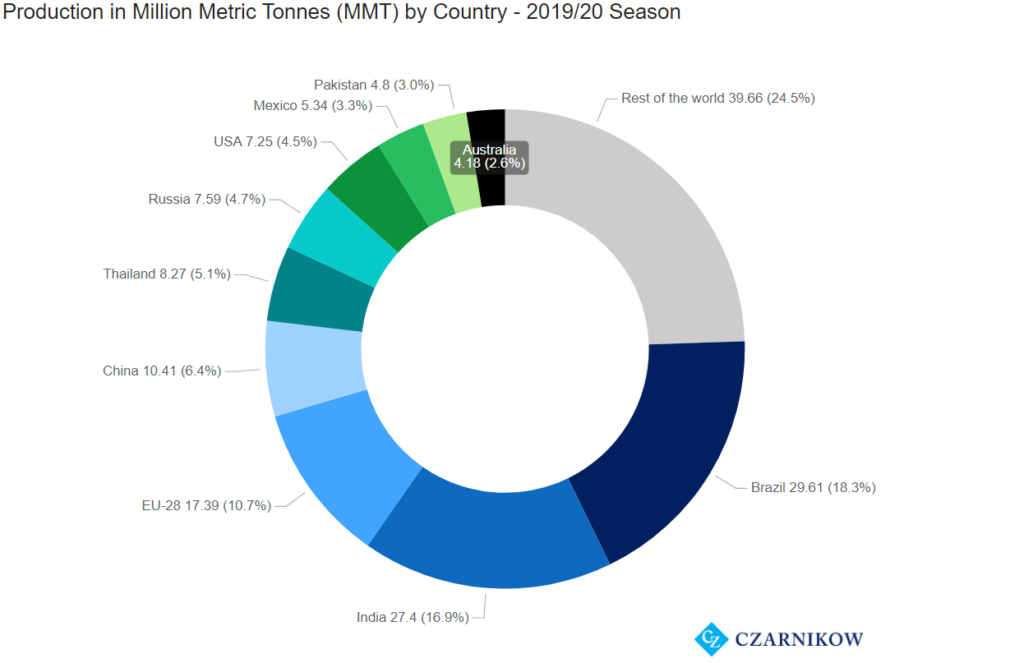 Sources