In the 2021/22 season, the world produced 179 million metric tonnes of sugar, over 5 million tonnes more than the previous season; of this volume 137 million came from the top 10 producers, which we are sharing with you. The countries on this list may switch positions from year to year but most of them have cemented their place in the top 10 for more than five years now.
Sugar trading continues to be influenced by shifting weather conditions, currency fluctuations and legislation by the major sugar producers. Here we rank the biggest sugar producers in the 2021/22 crop year and share leading sugar market analysis. But first…
How is sugar made?
Sugar comes from two key crops: sugar beet and sugarcane which are grown in different climates across the globe. Sugar beet thrives in colder, wetter weather. Sugarcane is the opposite: it thrives in warm, tropical areas and has been dominating the sugar market for centuries. You can read about how to process beet and cane in other entries, and the bigger question, 'what is sugar', is answered across the rest of our sugar series blogs.
Did you know that the most popular species of sugarcane, Saccharum officinarum, is a grass?
Where is sugar grown?
The world's largest producers of sugarcane have warmer, tropical climates. As you can imagine, extreme heat and a lack of rain leads to drought, which reduces the volume of cane that can be harvested. Yet this isn't all bad news. Such weather may lead to far smaller cane crops, but the extreme heat can increase the sucrose yield from the cane.
Then there is Europe which has the largest beet-producing regions. Adverse weather conditions like flooding, freezing and snowfall put the crop at risk of stunted development.
Map of Cane and Beet Producing Regions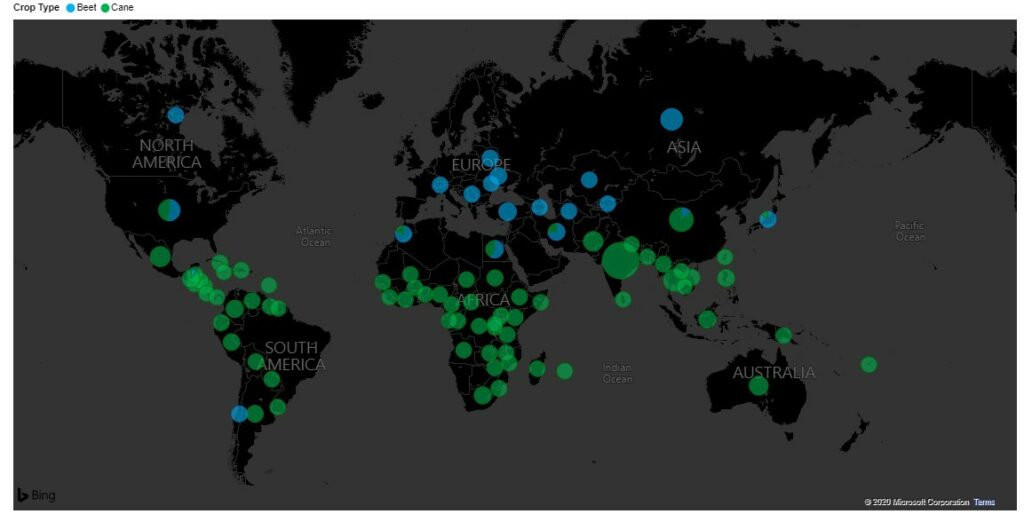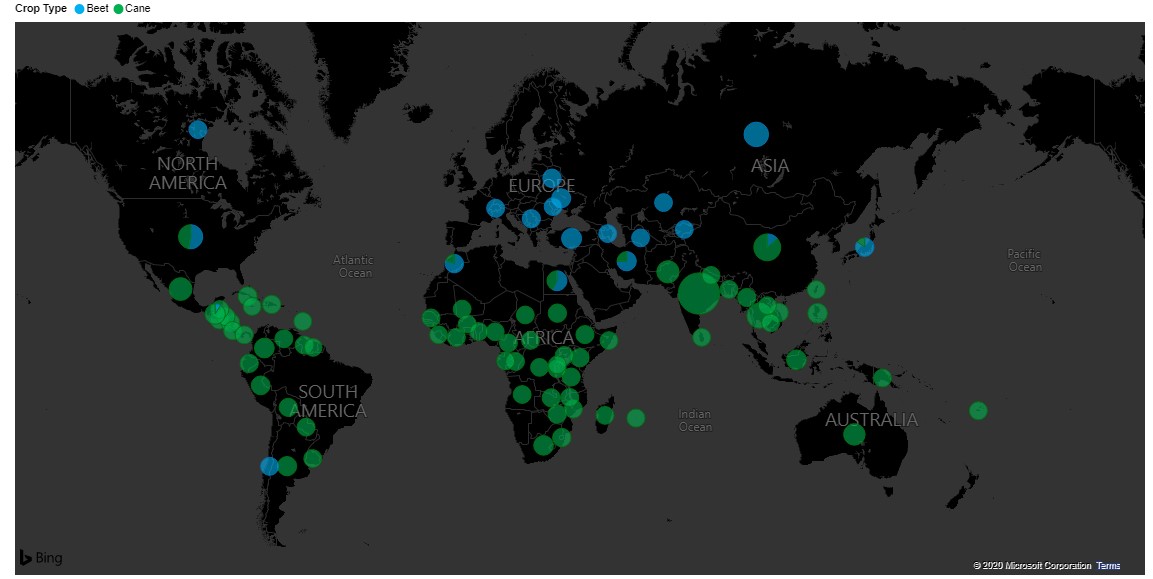 Top Ten Sugar Producing Countries
In the 2021/22 crop year the world produced 179m tonnes of sugar; here are the top 10 contributors to that total:
10. Australia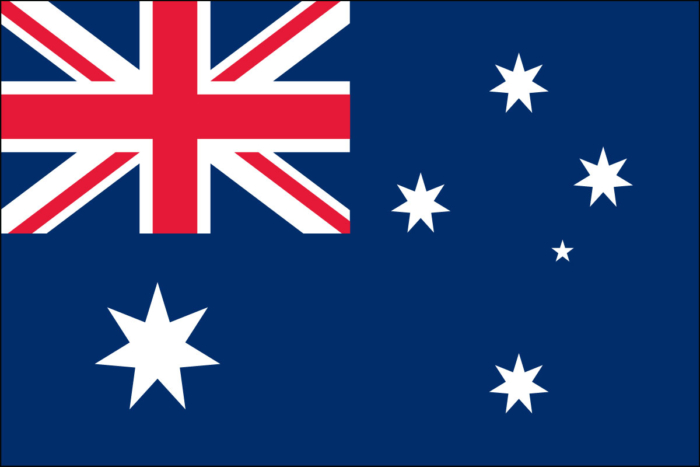 When you think of Australian agriculture, sugar probably is not the first crop to come to mind (which is fair since sugarcane is only 2% of the national agriculture) but Australia is the largest producer and exporter of raw sugar in Oceania. However, in 2021/22 Australia produced only 4.1 million metric tonnes of sugar – it's lowest volume in nine years. This is largely due to unfavourable rainfall in 2022. Since the domestic market for raw sugar is only 1 million tonnes, Australia exported around 75 % of its sugar in 2021/22. Historically Australian raws go to Japan, Indonesia, and South Korea.
95% of Australian sugarcane is grown in the climactically diverse state of Queensland, which hosts many cane farms near its coast. Many Australian mills have adopted the sustainable practice of using bagasse, a by-product of cane crushing, to power their boilers in a process called 'co-generation'. Czarnikow (CZ) has successfully facilitated the implementation of co-generation in various mills in Brazil and continues to trade in the Brazilian energy market – the second largest in the world.
9. Russia

Over the last decade Russia has been doubling its sugar production but has seen a downturn in the last two years. In 2021/22 Russia produced only 5.4 million tonnes which, while up from the from previous season, does not compare to its high output in 2019/20, which was largely due to changing market dynamics caused by COVID-19. Before Moscow restricted exports of sugar and grains after it invaded Ukraine, Russia was already struggling to build a successful export market because its prices were too high to compete on the world market.
As of October 2022, Russia was on track to produce almost 1m tonnes more sugar in 2022/23, almost 300,000 tonnes of that sugar could come from syrup and molasses, but this would not be a first as Russia extracts sugar from molasses and syrups yearly.
8. Mexico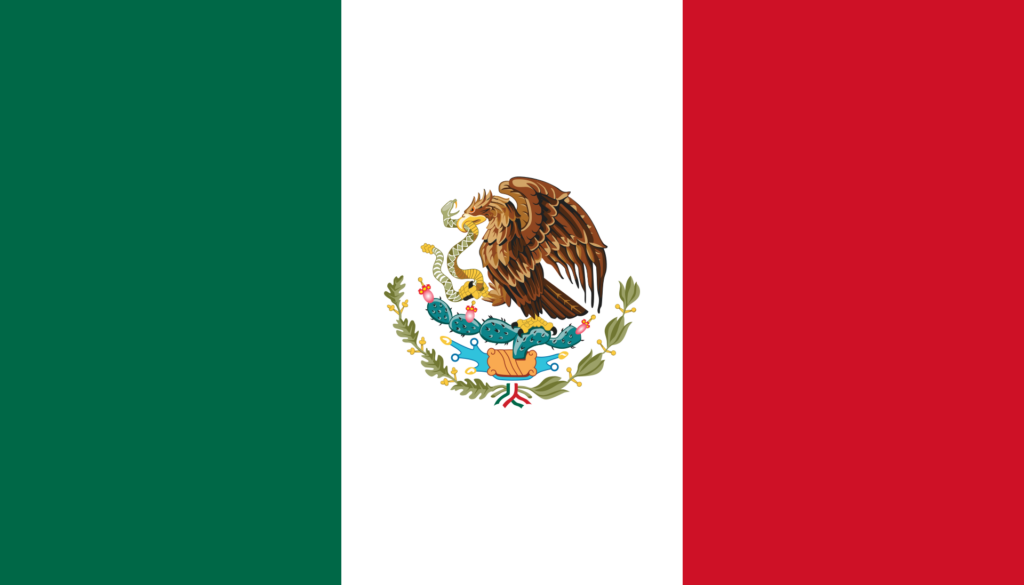 After two seasons of poor output, 2019/20 and 2020/21, the United Mexican States (the official name for those previously unaware) produced 6.1 million tonnes of sugar in 2021/22. Mexico's Gulf states: Veracruz, Oaxaca, and Tabasco are its top producers.
Mexico was the top exporter of raw sugar in the North America in 2020/21. Mexican sugarcane farmers are affected by export prices to the US and world market. While the final price of sugar depends on how much and to where it is exported, a reference price defines how much farmers are paid for their cane. The growth of world market exports in 2022 has created a problem for these farmers. Previously, in February 2021, a record drop in domestic sugar prices by 18% caused Mexico's cane farmers, predominately in Veracruz, to strike.
7. Pakistan
Sugarcane is a major cash crop for Pakistan and, unlike India and Brazil, Pakistan grows the plant almost solely for the purpose of sugar extraction. In 2021/22 the nation produced 7.8 million tonnes of sugar – its highest volume ever. Pakistan's sugar industry was challenged by drought in 2019/20 which, for an agrarian economy like Pakistan with a cane yield per hectare smaller than the world average (46 tonnes per hectare verses 60 tonnes per hectare respectively), was a serious problem. From 2016/17 to 2019/20 Pakistan saw year-on-year decline in its sugar output. But its fortunes have changed. Sugar production increased for two consecutive seasons because yields and land area for sugarcane increased significantly and government measures to protect farmers' incomes guaranteed a minimum sales price.

In February 2021 Pakistan's sugar prices rose as predictions of overall output being 200,000 tonnes less in 2021/22 than the 2020/21 season influenced speculative action in the market. That did not happen. Instead, Pakistan's sugar output was over two million tonnes higher in 2021/22 than 2020/21. In October 2022 traders found themselves waiting on the government to authorise exports of the excess sugar produced.
Looking To Buy Sell Or Move Sugar?
4. Thailand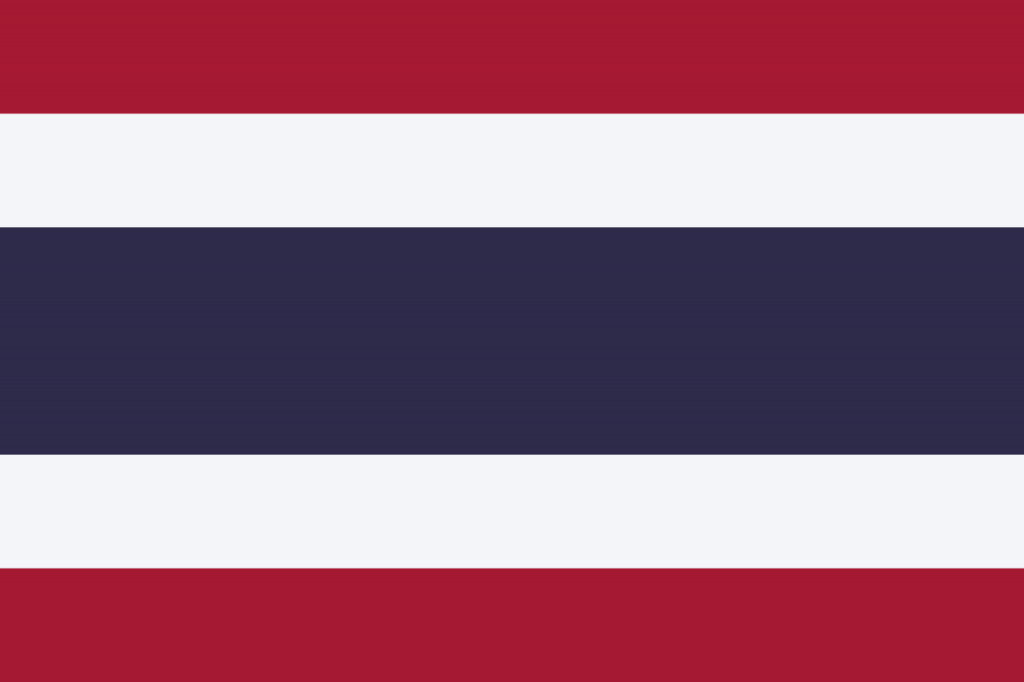 After two seasons of lower output than usual, Thailand bounced back in 2021/22 and produced 10.3 m tonnes of sugar which is a significant improvement from the production level of the drought-plagued 2019/20 season. Although it is not the largest producer, Thailand was the third-largest exporter of sugar in the 2021/22 season.
While the favourable rain fall helped improve the 2021/22 season's sugar output, abnormally high rainfall in October 2022, as a consequence of Typhoon Noru, has threatened the output for 2022/23.
Like two other countries on this list, Thailand also produces sugarcane-derived ethanol. The ASEAN member plans to have a 10% ethanol-gasoline blend by 2025 which means more sugarcane will be diverted away in the future.
3. The European Union and the UK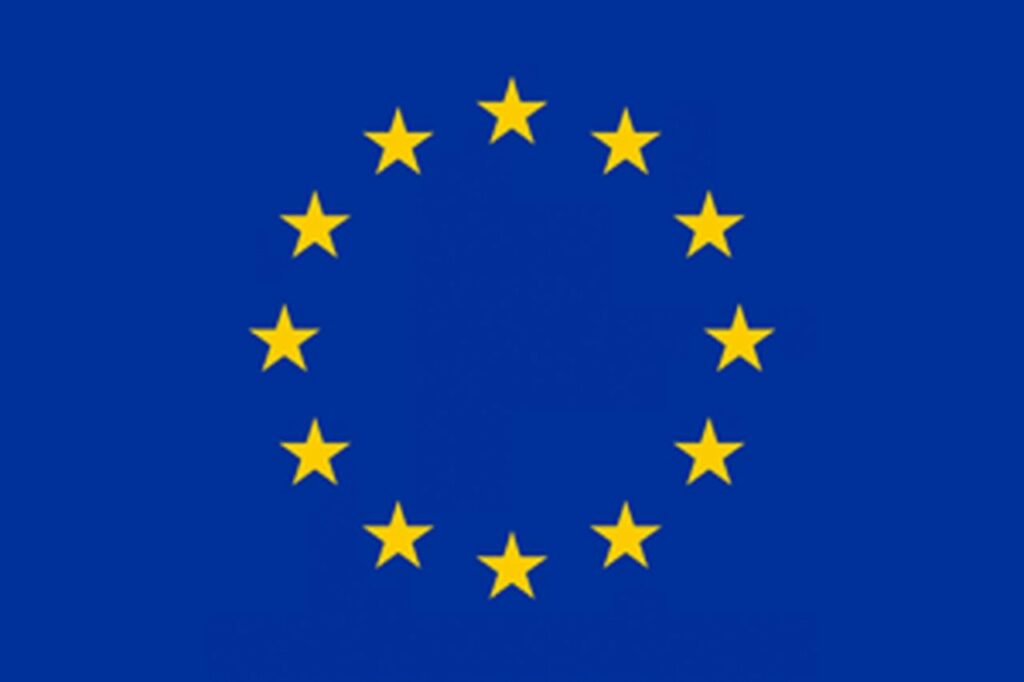 The EU is the world's largest producer of beet sugar. Although, beet only represents around 20% of the world's total sugar production. Much of the continent's beet is grown in its north half because that is where the climate is more suitable for the crop. Notable regions include France, Germany, the Netherlands, Belgium and Poland. On top of beet production, the EU also refines imported raw sugar but to a much smaller degree.
Until October 2017, the EU had a production quota of 13.5m. Once the quota was removed production shot up to over 21m tonnes, which led to a dramatic rise in white sugar exports by 153% in 2017/18. Hopes of the EU becoming a major whites exporter were dashed when sugar prices dropped and caused farmers to reduce their beet acreage.
In 2019 European beet crops was plagued by beet yellow virus and stunted by droughts in 2022. The 27 EU nations and the UK collectively produced 17.6 m tonnes of sugar in 2021/22 which is their highest volume since 2018/19.
2. Brazil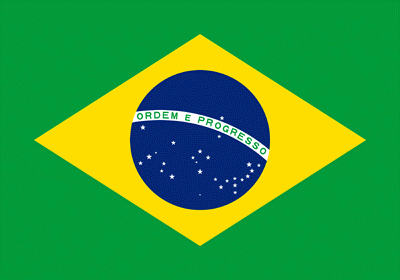 The country that has historically been the world's largest producer of sugar was unable to hold the title in the 2021/22 season. Brazil produced six million tonnes of sugar less in 2021/22 (34.9 m tonnes) than in the 2020/21 season in which it produced 41.5 m tonnes. Still, Brazil remains the number one producer of sugarcane.
Output in recent years suggests that Brazil's sugarcane production is stagnating. The 2022/23 season in Centre-South (CS) has seen a recovery in crush, and should end at 545 m tonnes, but is still far below it's capacity for cane crushing – 630 m tonnes.
Centre-South Brazil is the region responsible for 90% of the nation's production, with over 250 mills in operation and around 9 m ha (hectares) of cane. A contrast to the North Northeast (NNE), where crush is only around 55 m tonnes and cane area is stagnant at 1 m ha.
Brazil primarily produces and is a net exporter of raw sugar. Brazilian VHP raw sugar is the most popular raw in the world. Around 68% of the sugar Brazil produces is VHP raws, with the remainder being a combination of crystal and refined sugar that is mainly consumed domestically, and the balance is exported.
In Brazil sugarcane is not just crushed to produce sugar, it is also used for ethanol, and it is this flexibility that keeps Brazil's sugar market dynamic. Mills will switch between making more sugar or more ethanol depending on the returns offered by each product. Depending on the price dynamic, we have seen Centre-South production swing by approximately 10 m tonnes from one season to the next. For instance, in 2020/21 Brazilian sugar was offering returns significantly above ethanol (around 350pts) prompting the mills to maximize sugar production.
CZ is a leader in Brazil's ethanol and sugar industry and successfully manages trades with some of CS Brazil's largest mills.
1. India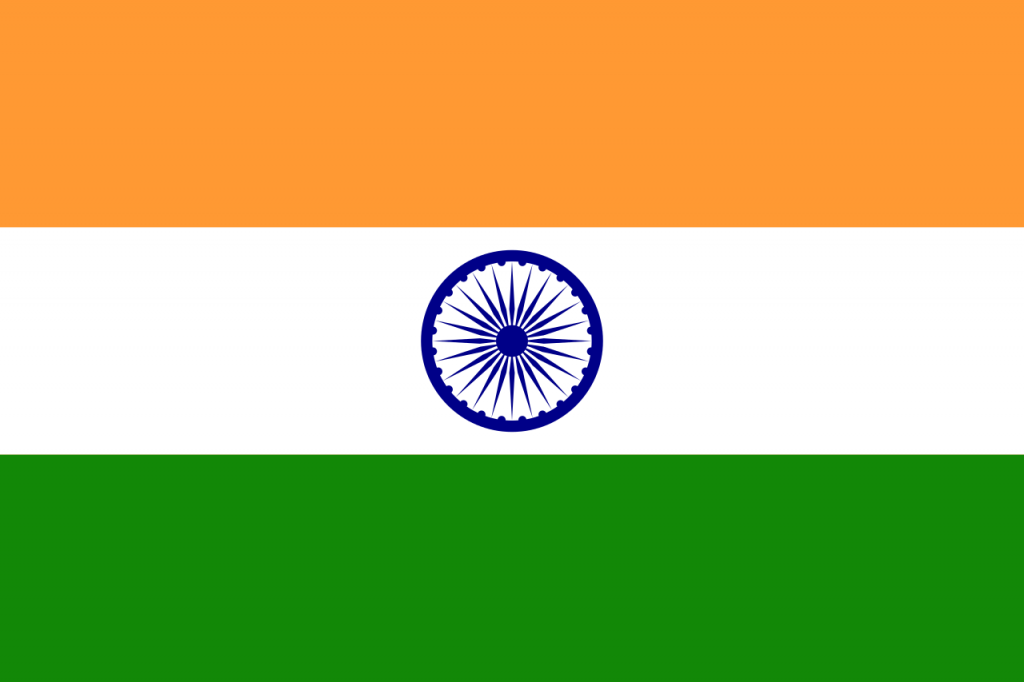 For the second time in five years, India managed to take the top spot from Brazil. The world's largest consumer of sugar produced 36 million tonnes of it in 2021/22 – almost six million more than the previous season. India exports raw and refined sugar, typically low-quality white sugar. The nation's massive consumption and production makes for a very large sugar industry, with roughly 50 million farmers and millions more workers involved in sugarcane farming. For this reason, the nation has been a surplus producer for almost a decade.
Uttar Pradesh, Maharashtra and Karnataka are the key production regions, with approximately 500 operating mills spread across them. In the 2019/20 season they were responsible for 82% of total production.
India has been working toward a 20% ethanol-gasoline blend which means it will be directing more of its sugarcane to making ethanol than sugar. This change is going to be a major challenge for the global sugar market going forward.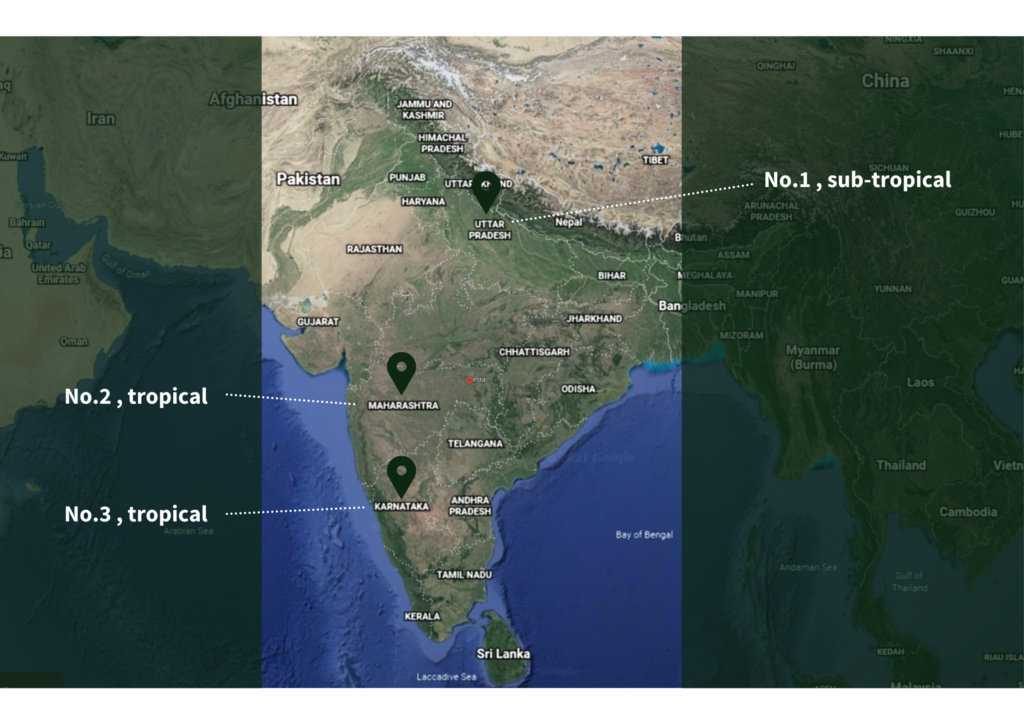 It's worth remembering…
As the world turns, so does its market. Changes tend to occur on seasonal basis, if not more frequently. Sugar production has barely increased in the last 10 years for a variety of connected reasons. Adverse weather conditions, new or modified governmental policies, and global pandemics can have detrimental impacts on a country's sugar production and trade flows.
For daily coverage of sugar supply, demand, trade flows and price movements you can sign up to czapp.com for free today.
FAQs
Why have Chinese refineries been importing raw sugar at a loss in 2022?
Chinese refiners increased their coverage of 2022 demand almost every time the No.11 raw sugar futures fell below 18c/lb. But the margins on imports have been negative. The first reason for doing this is that Chinese sugar refineries usually need to make use of all their Automatic import licenses (AIL) each year to ensure next year's volume is not reduced. Read the full answer on Czapp.
Can India export today?
Those of us in the sugar business always have to pay attention to whether it is viable for India to export its raws or whites since it is an key supplier of white sugar to the world market. The nation's government directly influences exports, which were banned from June to October 2022. Of course, changes in the world market and rate of the Indian Rupee to US Dollar affects the margins on exports. Every week, on Czapp, CZ Analysts will tell you, for free, if exporting sugar is viable for India.
Will Brazil make more sugar or ethanol this season?
This is a difficult one to answer because there are many factors influencing this, but we update on the likelihood of each in our weekly 'CS Brazil: sugar or ethanol?' opinion pieces on Czapp. You can read the latest analysis on this topic here.
Where the world's sugar came from in 2021/22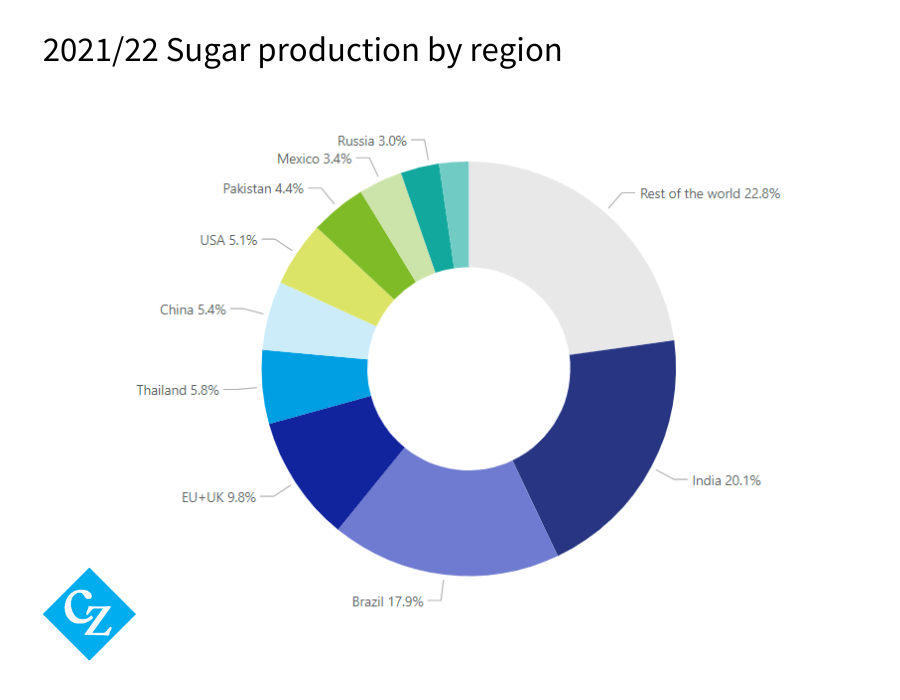 Sources