In March this year, which now seems a lifetime ago, we predicted that due to the coronavirus sugar consumption was likely to fall. We reduced our consumption estimate for 2020 by 2m tonnes, meaning sugar consumption per capita would fall.
Two months on, we have further reduced our estimates and can now be fairly certain in the knowledge that consumption will fall just as much, if not more, than we expected. In fact, this is the first time that we have seen a year-on-year decline in sugar consumption since 1980, when sugar prices hit a high of 45c/lb.
So why is this happening?
Well, as with most things at the moment, a large proportion of this change is due to coronavirus. In previous years we have seen sugar consumption grow roughly at the same rate as population growth. This is 1% per year.
Global Sugar Consumption Falling

As you can see above, there has been a reversal of this recent trend of 1% growth each year. Due to this fall, we have reduced our consumption estimates for locations that are still under lockdown by 5%. Under lockdown, there are associated reductions in at-home-consumption due to shortages in stockists, supply chain delays and the closure of the entertainment industry.
This final factor is particularly important when estimating consumption patterns. This is because we believe that out-of-home sugar consumption is likely to be even more reduced than in-home sugar consumption. When people can't go to the shops, cinema, sports events and bars, the amount of sugar – mostly in the form of sugary drinks, fast food and treat foods – is also reduced. We can verify this by looking at soft drinks sales, which have been particularly affected by lockdowns and the reduction of social gatherings.
Case Study: Coca Cola Sales Volumes are Down 25%
Even the giants of the beverage industry are not immune to the impact of coronavirus. Coca-Cola's sales volumes were down 25% during the month of April. Despite initial surges of sales due to stockpiling, the longer-term reduction is sales has been due to the closure of the hospitality and entertainment sectors.
In response, John Murphy CFO said the company would increase its dividend in order to survive, along with cuts to marketing and travel budgets across its Schweppes, Appeltiser, Costa Coffee and Fanta brands. However, some brands in Coca Cola's large portfolio, such as Minute Maid, have seen increased sales due to more people breakfasting at home. It can be seen therefore that as consumer activity changes, multinationals are having to re-consider the reliability of consumption of their previously best performing products.
In a statement, Coca-Cola said; "The company, along with its bottling partners, is continuing to adapt quickly to the current environment, with a focus on mitigating the near-term impact".
Chinese Consumption Recovery
Chinese sugar consumption marginally improved in March after reaching a standstill in February, when the virus' impact was at its most intense in the region. The improvement in consumption has come about at a time when people started to return to work and were able to move around more freely.
However, despite this improvement, we still think that Chinese sugar consumption will fall by 800k tonnes in 2020. We have seen the catering industry's revenue fall 46.8% YoY in March, and this is not including smaller businesses who may have closed down during the outbreak.
Yearly Increase of Catering Revenue

The economic impact on the Chinese economy has meant that people's wages have been reduced, and with less disposable income comes less consumption of sugar. Food prices have increased at the same time (18.3% in March), which has meant that consumers are even less likely to purchase non-essential or 'treat' items, or consume them at social events.
China can give us an insight into where other countries may be in months to come, as it is a few months ahead of for example Europe when it comes to impact and recovery from coronavirus. At the end of March, 98% of large companies and 76.8% of small-medium companies were back at work. This will hopefully see the economic impact, and therefore the impact on consumption, reduce over time.
Bubble tea, China's extremely popular soft drink, has seen a bounce in consumption since lockdown has been lifted. In the first week of returns to work, residents of Shanghai placed 160,000 online orders for bubble tea, which grew to a staggering 330,000 by the end of the month. Some customers were placing orders for 5 litres of tea! With each serving including 13.2% sugar (that's about 20 sachets!) the return of bubble tea – both in cafes and at home – is good news for the sugar industry.
However, despite this encouraging return of some normality, China only yesterday reported a cluster of new cases in Wuhan. This has sparked unease, and comes at a time when South Korea is also experiencing a resurgence after an effective strategy to limit transmission and track cases. The five people infected in the latest Wuhan cluster are thought to previously have been classified as asymptomatic, and are part of a larger group of 17 new infections reported in China on the 12th of May. This raises concerns of secondary spikes and resurgences of the virus once lockdowns have been lifted, which will have a further impact on the economy and global consumption.
Next Season
At this early stage, we expect sugar consumption to rebound next season. However, we think it is likely to fall short of the pre-coronavirus growth of 1% per year. This is because it will take some time for things to return to 'normal' across the globe. For the world's population to resume activity as before (if indeed, it does), we need either herd immunity, a vaccine or for the virus to die out. It is looking unlikely that any of these will come to pass in 2020 (and perhaps even 2021), and the effect of coronavirus on the global economy will be felt for many years, particularly as different countries have adopted contrasting approaches to the control of the virus.
While the USA has one of the most contested lockdowns around the world, we can see that consumption will still fall as a result of the coronavirus. While bakery items and canned goods have seen continued or increased consumption, beverages, confectionary and dairy products have been impacted. Both the closure of the hospitality and entertainment industries and the economic impact of quarantine are likely to impact consumption. Following the 2008 recession, overall sugar consumption in the US fell by 1.2% YoY. As the USA has a controlled market, a fall in demand might impact the need for imports, impacting the economy of exporting countries in turn.
As we approach the end of lockdown, it is likely that even when the hospitality and entertainment industries are open for business it will not be business as usual. Public feeling and government ruling is likely to prevent bars, restaurants and coffee shops from hosting customers less than 2 metres apart for some time. Similarly, when cinemas, sports events, theatres and concerts re-open it is likely that they will have significantly reduced capacity. As seen above, the reduced number of out-of-home customers leads to less sales of food and beverages, and therefore less sugar is consumed even when lockdown is lifted. It has also been seen that even once lockdowns are lifted there is still danger of further waves of infection, which may set us back further in our return to old patterns of consumption.
What About Production?
Despite a fall in consumption, it will still exceed production by 7m tonnes in the 2019/20 season. This is largely due to cane crop shortfalls in India and Thailand, which have suffered due to adverse weather conditions. Thailand saw its worst drought in 40 years, and many farmers were unable to plant cane. This deficit is not news to the sugar market, and we think the raw sugar is already priced at 10c/lb.
India was the world's largest producer of sugar in 2019, but with 80% of sales coming from the domestic market it is harder to predict how this will fit into overall production and consumption levels. Current circumstances have halted the progression of investigations into India's sugar subsidies, meaning they will continue with that model until 2021 at the earliest. India's lockdown was met with many workers unable to feed their families, and the recent implementation of localised lockdowns and borders will complicate any predictions on how the country will recover from coronavirus.
It will be interesting to see if European farmers reduce beet planting for 2021 as they come off three year beet contracts. These were made when the world sugar market was significantly higher, and a lower level of consumption and low prices may lead them to favour alternative crops.
Global Surplus and Deficit

How Does This Impact Price?
As coronavirus hits consumption, buyers have limited ability to use low prices to increase offtake. Early May has seen white sugar prices increase again, following an eight month low of $307/mt at the end of April. The current weakness in the raw sugar market, which traded below 10c/lb at the start of April, has hit current white sugar prices. However, where the raw sugar market is oversupplied for 2020, the white sugar market remains tight following a poor can crop in Thailand which is ordinarily one of the leading suppliers of low cost refined sugar.
As a result, refined sugar is currently relatively scarce and is being supplied by higher-cost roll refiners. As we cannot know the full impact of coronavirus on sugar consumption, we also cannot account for whether there will be further tightness and price increases in the whites market.
No 5 Whites Market (Front Month)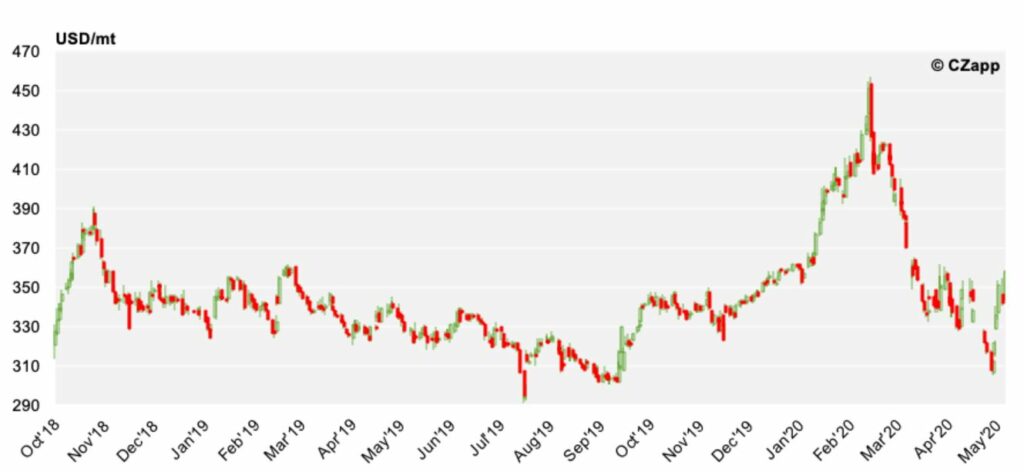 What's Next?
We have a clear picture of the general trend of a declining global sugar consumption. However, what we are still missing is a crystal ball that will tell us when coronavirus will no longer have an impact on the sugar market. We can predict what is likely to happen using current data and knowledge of global developments, but as we have seen, this virus can be just as volatile as the sugar market itself.
What you can be sure of is that we will continue to release data and analysis every day, report on all changes and fluctuations and keep you as informed as we are of any further changes to the market through our app, Czapp and in this blog section.
Author: Carys Wright