Oranges are used in many different products. Their flavour has become universally recognised and loved. But despite its versatile harvestability, its monumental health benefits, and the fact that around 85% of all the oranges produced are used for juice, there is one question that continues to trouble even the wisest of philosopher-chefs: Is orange called orange because an orange is orange?
The History of the Orange
This ultimate question is settled in the etymology. The word is derived from naranga which is Sanskrit for the fruit. Originally known as the 'Chinese apple', the cultivation of the orange is believed to have begun around 2500 BC, in southern China and Northern India. It arose in domestication when a non-pure mandarin was cross-bred with a hybrid pomelo.
The orange was Asia's best kept secret for thousands of years, as it only came across to Europe when it was introduced to southern Spain in the 10th century. But even these citrus habits were furtive, as oranges only became a widespread edible phenomenon when Portuguese and Italian merchants brought orange trees to the Mediterranean area. Oranges were considered a luxury item, with the wealthy building private conservatories called orangeries dedicated to the fruit. William III of England was named William of Orange because of his daily breakfast routine (not really) and Louis XIV of France was so fond of the fruit that he placed trees throughout the rooms at the Palace of Versailles, planting the trees in solid silver pots (yes really).
The fruit began spreading globally due to the proficient exploration of the Age of Discovery, and it is fabled that Christopher Columbus planted the first orange tree in America during his second trip across the pond in 1493. Soon the scurvy-fighting qualities of oranges were discovered by sailors and trees were planted as convenient vitamin C pit stops along their trade routes.
It wasn't until the 19th century that oranges began to be traded commercially, and today we have many derivative products that come from the delicious fruit. It is the fourth most popular fruit, and the most popular fruit juice globally.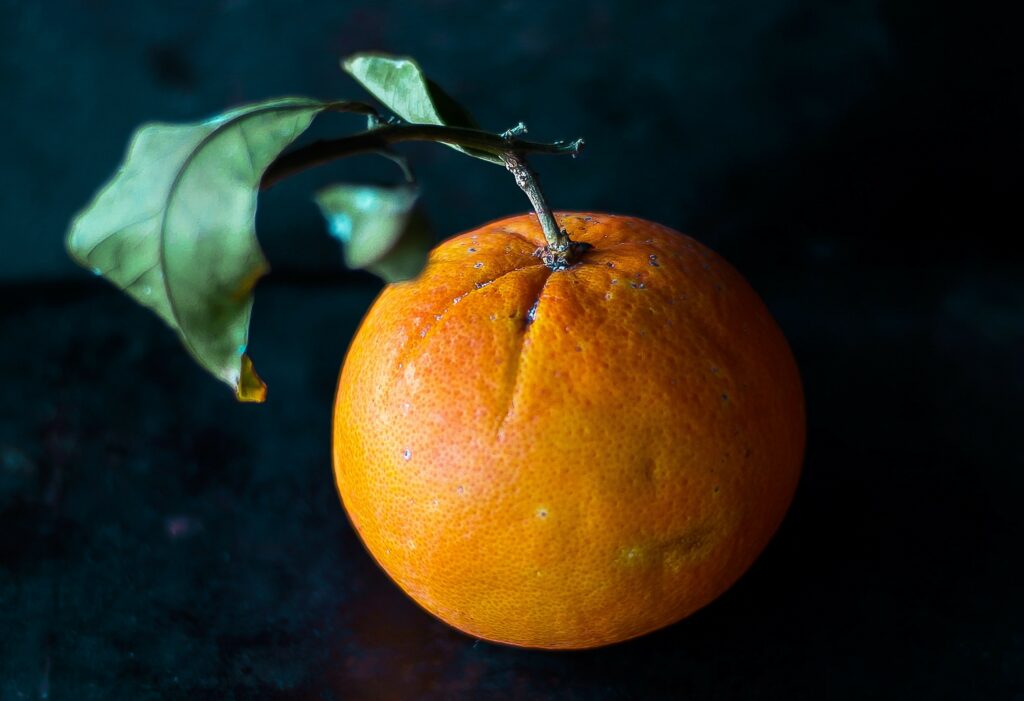 The Current Market
The main market drivers over the next couple of months include the continued crop updates on Florida, Mexico, Brazil and Spain. The frozen concentrate orange juice (FCOJ) futures market has reminded stable.
The current crop of FCOJ in Brazil is unlikely to change, the crop will end in January with a wide range of varied juice yields affected due rainfall, producing a higher ratio level than usual and by consequence low ratio supplies are scarce, brix levels are healthy. From July to October Brazil has seen an increase of exports for around 19% increase vs 2018 at the same period – mostly due the high demand of the EU market reaching 284,300 tonnes (25% higher vs 2018), exports are expected to continue to rise and prices to remind stable. Whilst the crop in Mexico reports a low number of volume due the extreme dry weather conditions and the crop is expected to reach just 2.0-2.1 million tonnes, representing a significant decrease on the 3.6 million tones produced during 2018 crop. Florida on the other hand has a limited FOJC production and could tighten the supply in the coming months.
In terms of supply-demand fundamentals the outlook for 2020/21 is still early to predict, however in the third flowering in Brazil faces difficulties, production will undoubtedly be affected. Stocks of concentrate are higher than it should be in Europe. For the moment price levels will remind unchanged.
Product Overview
The orange is an incredibly versatile ingredient, as, like other citrus fruits, it comes in many shapes and forms, and is used in many products. Its quality is measured by the sugar content in its aqueous solution, also known as the Brix level. The higher the Brix level, typically the healthier the plant and the more flavoursome and nutritious the orange.
The ratio mentioned below refers to the level of Brix proportional to acid.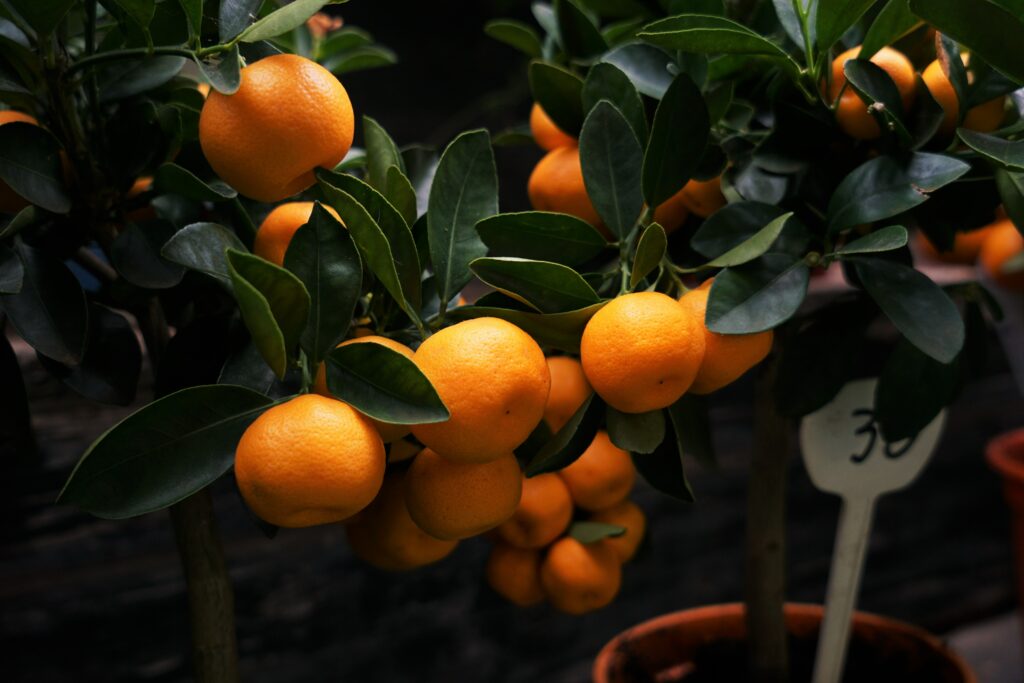 Variations
There is more to the orange that meets the eye.
Freshly Squeezed Orange juice
NFC: Orange Juice Not from Concentrate: > 11 Brix
Orange Juice Concentrate: 64-66 Brix, Ratio: 12-14, 14-16, 16-18, 18-22
Orange Fruit Concentrate: 64-66 Brix, Ratio: 12-14, 14-16, 16-18, 18-22
Orange Puree: 11-13.5 Brix
Orange Cells: 8-15 Brix
Orange Essential Oil
Orange Special Base "Emulsion": 50-60 Brix
Orange Compound: 65 Brix in the % of fruit content required
Orange Fiber: > 7 Brix
Orange Macro antioxidant: 5 Brix
Orange Powder
Supplied In
250-270kg Net weight for concentrates, purees & cells in 180-200 Kg Net weight in aseptic bags inside steel drums with food grade paint. The containers are then covered in shrink wrap. Oil form in 25 jars, and powder form in 25 kg Vacuum bags.
Filing
Aseptic, Non aseptic and Frozen.
Storage
Should be refrigerated at 5o-10 C and Frozen at -18o C. Best before 12 months if refrigerated and 24 months if Frozen.
Applications
Juices, nectars, fruit beverages, food industrial applications, bakery, dairy, ice cream, soft drinks, sorbets, syrups, marmalades, ice-lollies, confectionary, etc.
Orange juice concentrate is a key ingredient as most brands include a reference of orange juice, and depending on the pulpiness of the drink, orange cells too. Orange juice not from concentrate is also used in many juices, whereas orange emulsion is often used in carbonated drinks due the smaller fruit content. Orange powder and orange fibre are all used in the health industry as supplements, whilst orange essential oil is used to enhance flavouring and calming properties.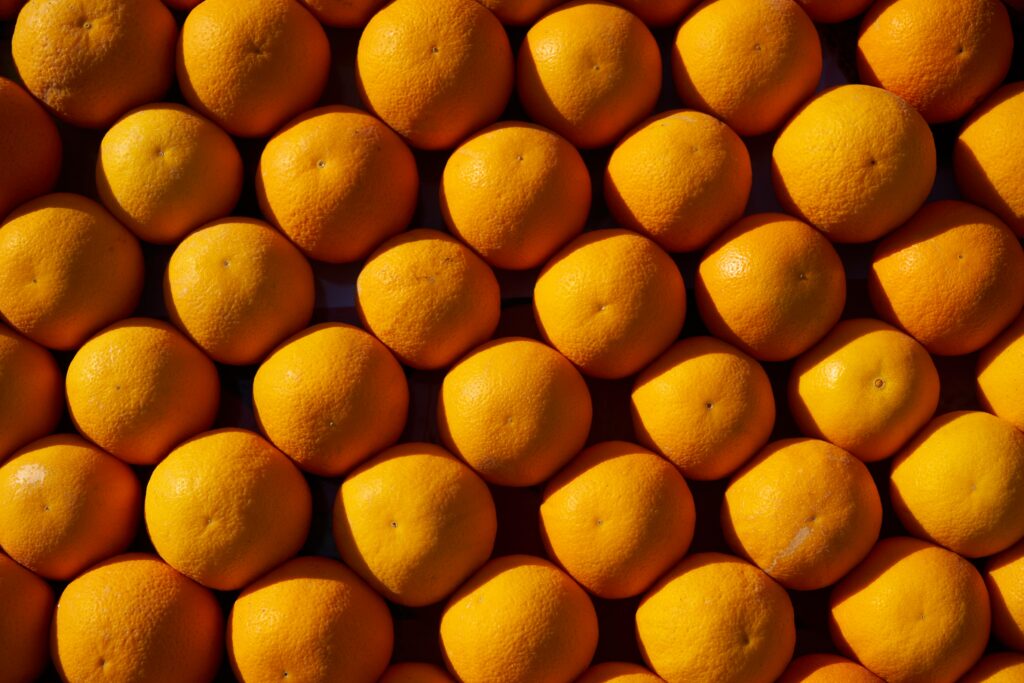 Orange Ingredients: Health Benefits
Oranges are high in Vitamin A, Vitamin C, Dietary Fibre and Citrus flavonoids.
Vitamin A
Vitamin A provides support for your immune system, protects eye and skin health, is anti-inflammatory and is anti-carcinogenic.
Vitamin C
Vitamin C is a strong antioxidant that helps to reduce the risk of chronic diseases as well as help regulate blood pressure and cholesterol, thus lowering the risk of heart disease. It naturally improves your bodies iron absorption, and it boosts your immunity system by supporting your white blood cells, hence it's efficacy in the face of scurvy.
Dietary Fibre
This helps regulate blood sugar levels, aids in achieving a healthy weight, lowers cholesterol levels, and helps maintain bowel health.
Citrus flavonoids
These also build your immune system and are anti-inflammatory. They also serve to support circulation and have prevalent antimicrobial, antiviral and antioxidant activity.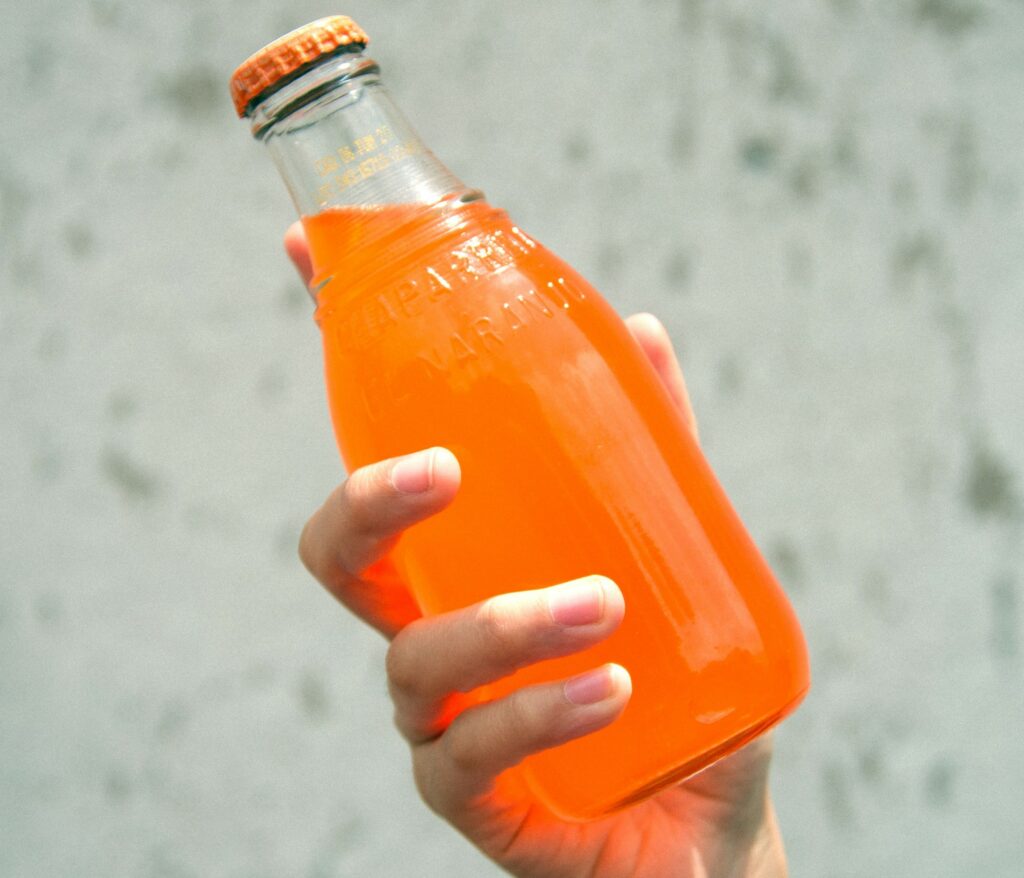 Fun Facts
Over 70 million tons of oranges are produced around the world, from more than 600 varieties of orange.
An orange is a type of berry.
There are typically 10 segments inside an orange.
Leonardo Da Vinci's 'The Last Supper' depicts oranges on the table, yet oranges were not cultivated in the Middle East until around the 9th Century.
Glad you've just learnt about oranges? If you'd like to find out more about oranges, or any of the other ingredients we supply, please contact us. Also, have a read about some of our other ingredients, like pineapple, and lemon.
---