Think about what you eat in a day: the fruit, vegetables, carbs, animal products. Where do they come from? How do they get to you securely and how do you know that they are fit for consumption? As most of us get our food from trusted supermarkets, we don't consider these questions often. That is because there are protocols within supply chains to ensure that our food is up to scratch. Surprisingly, these protocols are a relatively recent development.
It took quite a few scandals for trusted quality management systems (QMS) to be enforced in the food industry. The Global Food Safety Initiative (GSFI), introduced in the 1990s by global industry network The Consumer Goods Forum (CGF), benchmarks the safety of food produced by some of the world's leading food companies. While food companies and their suppliers have, in the past, been solely responsible for assuring food safety, the pivot to make supply chain service providers, like Czarnikow, involved in the quality management of food supply chains means there is more accountability.
Sourced, shipped and safe
When our Food Ingredients and Packaging team are assessing our products, they are asking a range of questions related to:
The safety of the product e.g., Has it been risk-assessed? Is the product fit for consumption not only for most adults but for infants? When does it expire?
The consumer's desire for the product e.g., What does it taste, smell and look like? Does it have a pleasing mouthfeel (you've probably heard this one from coffee connoisseurs)? Was it produced sustainably?
The legal requirements of the product e.g., Does it contain banned ingredients? Was it made ethically? Will it cause illness?
We follow GFSI guidelines. This means that all our core suppliers are GFSI certified which is an especially important criterion for us because we work with top 100 world food companies. Consider a GFSI certification a passport to the global food ingredients market.
How to get GFSI certified
It starts with an audit – a third party audit performed by a GFSI certification programme owner (CPO). The GFSI has CPOs for different food products and geographical jurisdictions which means the inspections and the certifications awarded vary.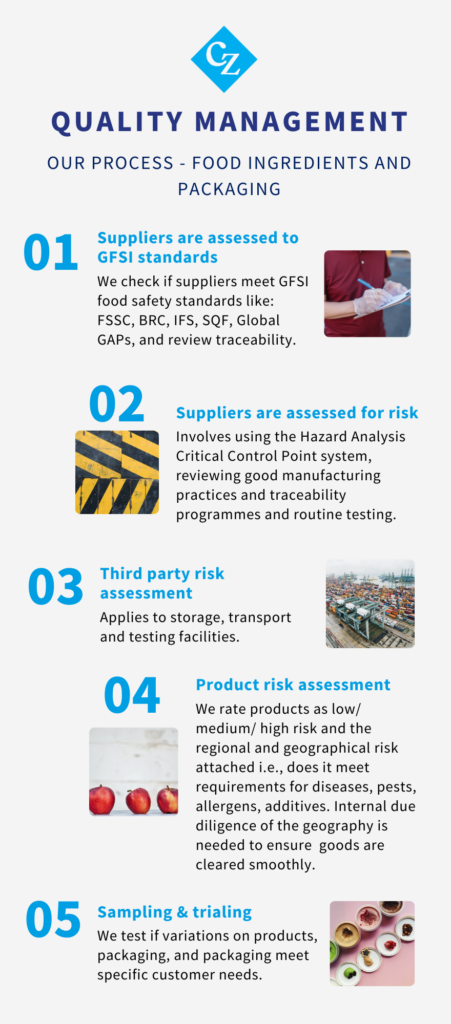 These steps are not just to make sure products are safe but to defend them from tampering. Not to be conflated with food safety, food defence is about protecting food from intentional threats, like fraud. Food fraud is a deceptive act that can involve omitting critical information about food, for example whether ingredients have been added, removed or substituted, with the aim of making personal gains or causing losses for competition. Like all fraud, it causes serious harm and reduces consumers' confidence in compliance systems. Olive oil, milk, honey and seafood are some of the most frequently debased food products; it is common for fraudsters to falsify the country of origin of honey and seafood.
Efforts to prevent food fraud are aided by the Hazard Analysis Critical Control Point (HACCP) system, a global standard which we use to analyse risk from end-to-end in the supply chain. Such risks are typically characterised as exposure to hazardous chemicals and are why many of our bulk products are fumigated and sanitised.
Of course, safety goes in hand with consumer desires. We have discussed the increasing number of consumers calling for food products to be more traceable in an earlier blog. Making supply chain operators more responsible for the safety and quality of foods in their supply chains can increase the visibility on where food comes from and how it is produced.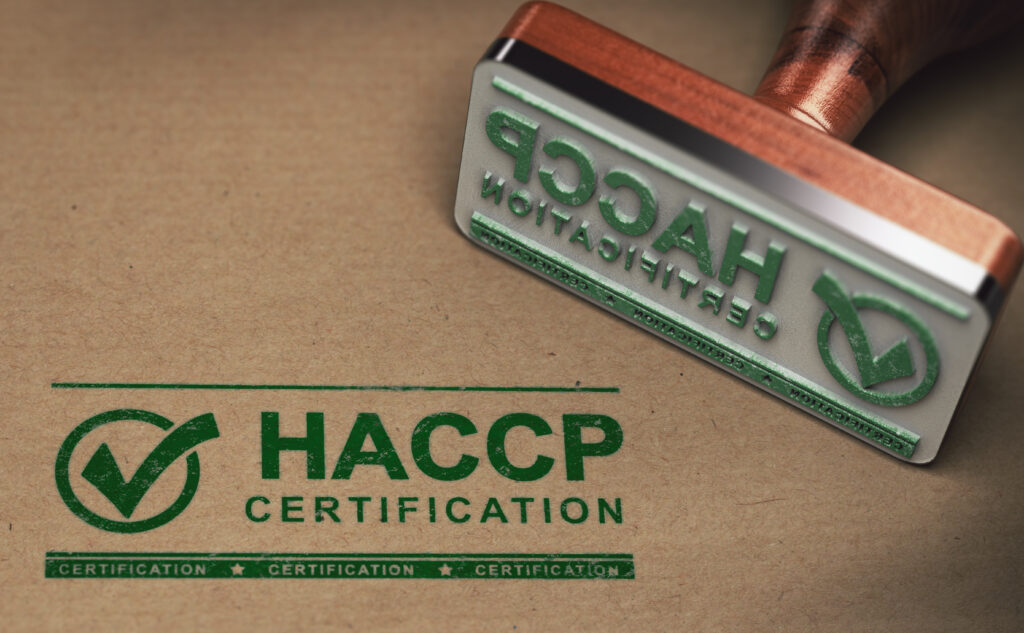 What happens if something goes wrong?
No matter how well you prepare, there is always the chance for mishaps in long and complex supply chains. When shipping any product from one location to another, you need to consider the properties that make it sensitive to shipping conditions. For multinational companies (MNCs) who use top quality ingredients to make food products for consumers like you in multiple locations, the properties that make food challenging or sensitive to shipping can present a real obstacle. Although errors in our Food Ingredients and Packaging services are rare, if they occur, we respond by:
Doing a thorough investigation of the supply chain to understand where and why an incident occurred
Identifying if the incident is isolated or widespread
Monitoring how suppliers and other third parties react and respond to these incidents and monitor repetition.
How are quality management systems changing?
Unsurprisingly, the last two years ushered in new challenges to quality management systems which means QMS must be as adaptable as they are cooperative with core GFSI guidelines. Our team demonstrates the flexibility and speedy responses that the global food industry requires by incorporating new suppliers, products, trade flows and policies into our operations while making sure that our products are safe to eat.
Naturally the global pandemic has reduced man power across the industry meaning that quality checks and inspections at ports of landing are happening less often. How are we responding to this? We have established remote protocols since some clients have not been able to do inspections. In some cases, clients appointed third parties to do their inspections. It's apparent how the involvement of suppliers in the quality management process of food supply chains is making them more resilient.
For enquires about trading food ingredients and packaging, just complete our short contact form and one of our traders will get back to you. And feel free to share this blog on Facebook, Twitter and LinkedIn.
Until next time.