This article was first published on czapp.com, Czarnikow's market portal that provides you with get daily market intelligence on agricultural and energy commodities.
Attempts to use food-grade recycled polyethylene terephthalate (RPET) in Asia has been contested by many of Asia's largest food packaging producers like India and China. Now, more Asian countries are revising their stance on the use of RPET in food contact materials.
India, Thailand, and South Korea have amended food packaging standards and food-grade RPET is a hot topic within China.
Food-grade RPET demand should accelerate sharply, potentially growing 10-15 times by 2030.
The Acceptance of Food-Grade Recycled PET material is Growing Across Asia
Whilst food grade RPET has been widely accepted in the US, the EU and Japan for several years, the use of recycled plastic in food contact materials (FCM) has been heavily restricted across much of Asia.
The lack of a regional definition of 'food grade' or overarching regulatory body, on par with the European Food Safety Authority (EFSA) and US Food and Drug Administration (FDA) has also hindered trade and growth.
Japan is largely cited as being one of the only Asian countries to have a regulatory framework for food grade recycled plastics, but there now seems to be a regulatory shift in the acceptance of RPET for food contact use across Asia.
In 2020, South Korea's Ministry of Food and Drug Safety revised legislation allowing the use of RPET in food contact materials, whilst Thailand's Food and Drug Administration also initiated a review process to consider allowing the use of RPET and RHDPE in food contact applications. Most recently, in September 2021, the Indian government also amended its Plastic Waste Management Rules to allow the use of recycled plastic in food packaging applications.
India moves toward a circular economy
India's recent U-turn on its previous stance against the use of recycled plastic in FCMs forms part of an ongoing sustainability drive by the Indian government aiming at reducing plastic waste and building a circular economy. The circular economy looks beyond the 'take, make, dispose' linear consumption patterns; changing to a circular model helps to reduce waste and pollution whilst keeping products and materials in use. This means that a circular approach aids decoupling plastic manufacturing from the consumption of petroleum-based resources.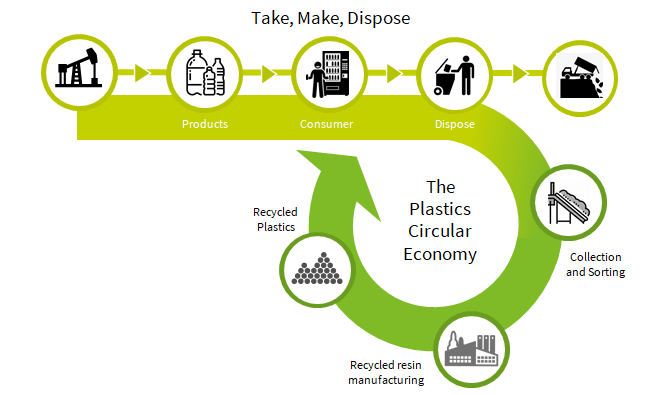 India's government has already announced that it would phase out the production, sale, and use of certain single-use plastic items from July 2022. In September 2021, India became the first Asian country to also develop a national plastics pact. The India Plastics Pact was launched with the aim of bringing together businesses across the Indian Plastic chain and facilitate a move towards a circular plastic system.
The India Plastics Pact has four major targets:
Define a list of 'unnecessary plastic packaging' and items for which measures can be taken to reduce plastic waste
Reuse or collect 100% of plastic packaging
To recycle at least 50% of plastic packaging
Average 25% recycled content across all plastic packaging
China: Asia's Sleeping Giant for Food Grade RPET
Although China is the world's largest producer of RPET, accounting for around 45% of current global RPET capacity, RPET flake is almost exclusively used in the production of textiles and fibre.
Food grade application is a hot topic within China but until now has been heavily restricted by food standards.
Quality safety certificates are required for local manufacturers to produce food packaging materials made of plastics and paper, and very few have ever been granted for the use of food-grade RPET.
In recent years, the Chinese government and local associations have jointly made efforts to speed up the development of a circular economy for plastics, introducing new policies, proposals, regulations, as well as guidelines for plastics recycling and reclamation.
And in October 2020, Zhu Lei, Deputy Director of China's National Center for Food Safety Risk Assessment (CFSA), announced that it was conducting a survey and initiating a risk assessment method for recycled food contact materials (FCMs).
With China being the world's largest producer and consumer of plastic packaging, the acceptance of recycled plastic in FCMs within China would be a global game-changer.
However, unlike some of its neighbouring Asian countries, the assessment and implementation of such a move will likely be more cautious and play out over a longer timeframe.
European Reliance on RPET Imports May Face a Reality Check
With greater acceptance for use within FCMs, demand for food-grade RPET should accelerate sharply, with some industry analysts projecting demand growth of 10-15 times current levels by 2030.
One of the limiting factors in the availability of RPET material is bottle collection. Countries with established return schemes tend to have the highest collection e.g. Germany with rate ~95%. Although RPET demand should soar, unlike Europe and the US, bottle collection rates across most major Asia economies tend to be far higher so how much plastic that is recycled should follow.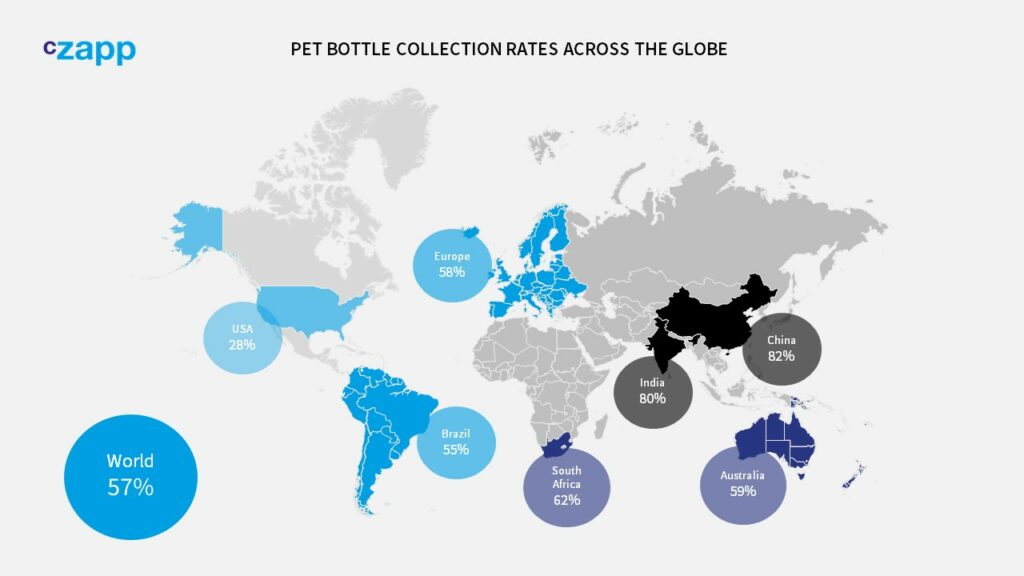 For example, in comparison to an average collection rate of around 58% in Europe and just 28% in the US, PET bottle collection rates in China and India are over 80%. As such, the bale pool within Asia should be adequate for future demand requirements.
However, with a greater emphasis on sourcing and containing material locally, less RPET flake could be made available for export in comparison to traditional virgin polymer. As a result, existing trade flows to Europe and the Americas could be gradually squeezed over the next decade as new food-grade capacity springs up across Asia. At the same time, demand within Europe and the US should escalate rapidly.
Asia has an adequate packaging pool with fewer extreme targets
Recycled content targets should also be less extreme compared to Europe.
Unlike some European countries that are seeing brand commitments of 100% RPET content across a large proportion of their beverage portfolios, recycled content across major brands is generally not expected to exceed 50%, keeping the system in balance.
Varun, the largest PepsiCo bottler in India, has a target to achieve at least 25% of recycled content by 2030. Whilst Coca-Cola India's aims reflect the global corporate ambitions of achieving at least 50% recycled material in its packaging by 2030.
Several multinational brands in Japan and Australia have already launched bottles made from 100% recycled plastic but these will likely be the outlier markets in terms of extreme commitments.
Coca-Cola Australia have already converted all plastic bottles under one litre to 100% recycled plastic, eliminating the use of around 10,000 tonnes of new plastic each year.
Whilst in Japan, major brands including Kirin, Suntory and Coca-Cola Japan have all set ambitious targets to reduce, and in some cases eliminate, the reliance on virgin plastics and fossil fuels over the next decade.
The future of investing in RPET materials
Although acceptance of RPET for food contact applications is growing, production of good quality food grade RPET still remains a challenge in many parts of Asia.
With some of the highest collection rates globally, one of the major bottlenecks to future growth is going to be production capacity.
However, significant new investment is currently being made to ease this constraint, and a wave of new capacity expansion will likely come into operation within the next five years. Some projects are even being made in countries, such as China, ahead of any potential regulatory change.
The combination of a resurgent textile industry post-COVID and a rapid RPET capacity build could lead to greater competition for RPET flake and disruption to extra-regional trade flows.
Increased flake demand within Asia may also see more volume increasingly diverted from other regions, in particular Africa, for food-grade use compounding availability issues within Europe.
We supply food-grade recycled PET products- just let us know what you're looking for and one of our traders will get back to you.