Are you an ambitious self-starter looking to gain experience in financial services and commodities? Czarnikow (CZ) might be just what you're looking for. We're a global supply chain solutions provider, working across 16 countries, employing 260 people and with a diverse, young talent base looking to hire our next intake of one-year interns with the potential to secure a permanent role.
Our main trading business is conducted through a collaboration between our Trading, Operations and Trade Finance teams, who work to move millions of tonnes of sugar, food ingredients, energy and packaging across the globe on behalf of our clients. In addition, Analysis, Sustainability, Accounts and Risk teams provide complimentary services to a range of clients and back-office support that ensures we can carry out our business safely and efficiently.
Czarnikow's culture
Our work culture is at the centre of everything we do, and its emphasis on entrepreneurial approaches has driven our latest growth plans. Our business is constantly growing, bringing regular opportunities for innovation. We have an open-door policy, meaning senior leadership is readily available at any time, supported by employee-driven check-ins with HR to support wellbeing and personal and career development. We value open communication and welcome new perspectives on doing things. Plus, the teams at CZ aren't so large that you will feel lost in a sea of interns, and you'll have a buddy within your team to help you out when you get started.
Our global reach gives us a uniquely diverse team, spanning multiple languages, geographical locations and cultures. There are opportunities for employees to work abroad for further development, and we embrace learning from how our overseas colleagues do business in their local markets. At present, we are looking to hire interns in London and São Paulo, our two largest offices. You can find out more about our other locations here.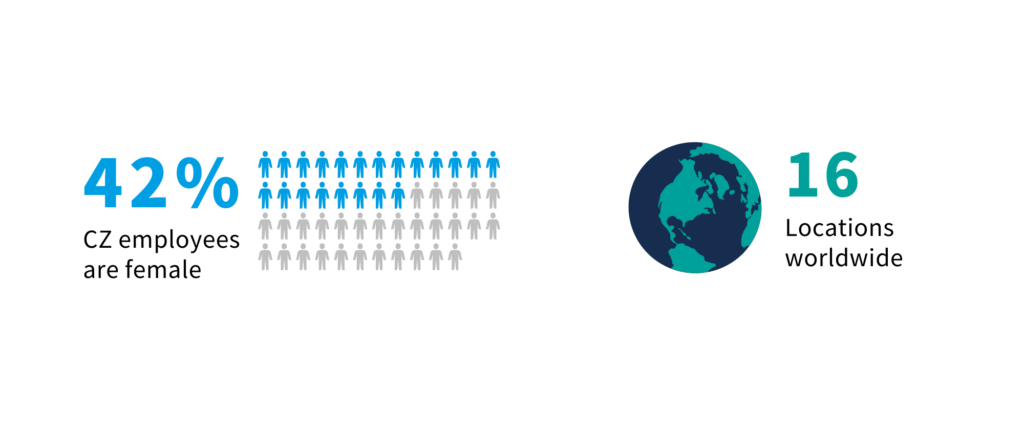 'During my internship I was made to feel very welcome in a positive environment, supported by knowledgeable and collaborative colleagues. I was empowered to undertake numerous responsibilities from an early stage, providing me with the rewarding opportunity to develop as part of a growing and vibrant company.'

– Ben Hooper, Operations Administrator (Permanent Position)
'My year-long internship at Czarnikow provided me with a great insight into the working world. At university I was still unsure what career path I wanted to follow but my time in this exciting fast paced environment helped me decide what I wanted to do in the future. At CZ, from the get-go, you are trusted with meaningful tasks that add value to the business. You are given opportunities to work with teams across the company at all levels of management.'

– Harry Purcell, Trader (Permanent position)
Pathways to success
On completion of the internship, we have many of those involved return to us for further career opportunities at CZ; while some of our interns who join us post-grad have even managed to secure permanent positions after a three-month probationary period while interning. While this isn't a grad programme in the traditional sense, this scheme has proved successful for interns to begin their career at CZ. As part of our investment in our talent, we provide employees with a mentor to help with their career progression. At CZ there are opportunities to move around the global offices and move between teams and we encourage employees to continue building their skills and personal development alongside a deeper understanding of the business and how it functions in its entirety.
Graduate roles in finance, logistics and sustainability
Our business, operating in every continent across a range of products, is an excellent environment for you to learn about global trade and gain real life, on-the-job experience. Commodities markets are volatile, ever-changing and bring with them niche processes, terms and approaches which require a practical approach to fully understand. A year at CZ will equip you with the necessary skills to pursue a further career in finance, trading, logistics or analysis with confidence, along with understanding that can only be gained in role, for example building client relationships and the knowhow to navigate challenges that occur in supply chain management.
'My experience at Czarnikow so far has been very positive! The people here are open and welcoming which creates a great environment for learning and growing. Since I started as the trade finance intern here in Brazil, I have developed a lot of important skills. With many trades to facilitate, the finance department can have a hyperexcited so, I've had to prioritize and multitask more efficiently. I enjoy that my internship challenges me to improve.'

– Mariana Rocha Shishito, Trade Finance Intern
The roles that are open:
Sustainability Analyst Intern
Junior Risk Analyst – Intern
Advisory Intern (Biomass focus)
Advisory Intern (EU Ethanol focus)
For more information about life at CZ, you can visit the 'Our People' page to meet some of the team.
Please email sblore-rimmer@czarnikow.com by 31st March 2022 to apply. We look forward to hearing from you.