This year we have published our longest ever annual review, once again focusing on transparent reporting and the building of trust between stakeholders, clients and employees. As such, our business model has been improved this year to reflect not only our core group of clients according to their function and our activities along our supply chain, but internal Czarnikow teams working in our various service offerings and their key external partners.
With a clear graphic, we show how although we already engage with farmers best practice sustainability to help them meet criteria required by global food and beverage manufacturing, we are also talking to some larger farming groups about pricing and financial services. In this way, we demonstrate the deepening of our client relationships and the diverse range of services we offer.
In the following text, more details are provided about each of our three business streams, including the key resources and relationships we depend on, how we make money and how we create further value for our clients and the wider stakeholder group. We analyse our wider stakeholder base, explain how we engage with each of them and share expectations – this helps to fulfil reporting requirements, which we are adopting early.
By giving concrete examples, we hope to demonstrate how stakeholder engagement informs board decision-making and benefits our business. By being open, we are extending our commitment to transparent reporting and placing ourselves in a good position to continue and improve upon our current business model. Our early adoption of the Wates Principles, voluntary reporting and a deeper interrogation of company culture, diversity and inclusion and gender pay gap have allowed us to continue to strive for improvement.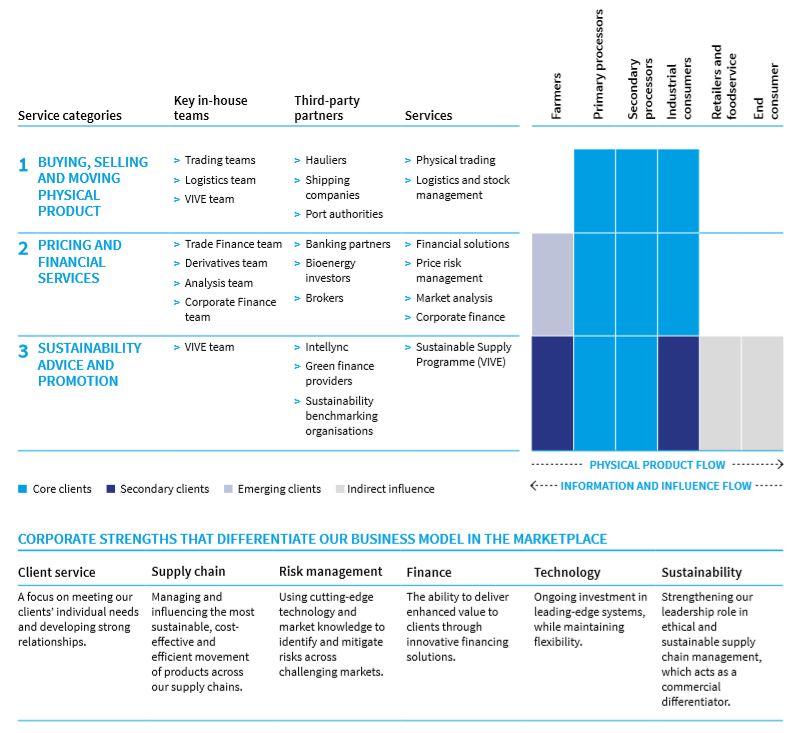 A SOPHISTICATED RANGE OF SERVICES
1. Buying, selling and moving physical product
What we do

We buy, sell and move raw (unrefined) and white (refined) sugar and complementary products (food ingredients, packaging and ethanol). We do not supply or market products to the end user, but are very active in trading to and from primary and secondary sugar processors, and industrial consumers. For some clients, we stock and repackage physical product and organise warehousing and logistical requirements, including the provision of Vendor Managed Inventory services. In other instances, we take title to goods and agree to sell future production on our clients' behalf ('off-taking'), and develop bespoke distribution and supply strategies.

Our core clients
> Primary processors (e.g. sugar beet factories, sugar cane mills)
> Secondary processors (e.g. sugar cane refineries, liquid plants)
> Industrial consumers (e.g. large food and beverage companies and ethanol fuel blenders).

Resources and relationships

Our physical trading business is transaction-rich and asset-light and we do not own any farming or production assets. However, we are prepared to invest in small-scale or 'synthetic' assets (e.g. silos, warehouses) as a part of our commitment to developing strong client relationships. Successful client engagement helps us facilitate the most effective, efficient and sustainable movement of goods in our targeted supply chains.
Value creation and how we make money
Our business philosophy is not to favour certain clients or our own operations, but to create overall value by optimising the transaction for all parties involved, in return for a small margin on high volumes. Given our strong reputation we are often called upon to negotiate some of the more complex deals in play.
What you can expect
A further increase in the ratio of our traded revenue from non-sugar products, as a result of the development of relationships in new industrial sectors (e.g. dairy, energy and fertilisers).
2. Pricing and financial services
What we do

We offer a range of client-centric pricing and financial services, which complement our physical trading activities, and include:
> Financing solutions and price risk management
We use derivatives to manage price risk exposure, provide related consultancy and execution services, and arrange financing solutions and securities to extend short- and medium-term payment terms.
> Corporate finance and market analysis
Our Corporate finance team advises farmers, processors and investors in the sugar and bioenergy markets. Our Market Analysis team enhances internal and external business decisions by providing world-leading market advice. In 2019 we launched Czapp (our client portal and app) which offers access to bespoke market information and data.

Our core clients
> Physical trading clients
> Banking partners
> Sector-specific investors
As we expand our services we are starting to work with larger, more diverse farms and processors.
Resources and relationships
Our specialist teams benefit from an exceptional amount of experience and market knowledge and are responsible for developing and strengthening key external and internal relationships.
Value creation and how we make money
Our pricing and financial services keep the supply chain moving effectively through the provision of funding, market information and risk mitigation. For us, these services secure additional revenue, offset market vagaries, attract new partners, deepen relationships and strengthen our brand presence. We are remunerated in various ways (depending on the levels of risk we take or services we provide) including annual subscriptions, one-off consultancy fees, deal fees, retainers, costs per service or bundled services, and commission.

What you can expect
Growth in revenue from our pricing and financing services and an expected return on our investment in Czapp. The newly created role of Head of Structured Finance will expand our capabilities within the area of finance solutions.
3. Sustainability advice and promotion
What we do
VIVE is a continuous improvement sustainability programme that measures, monitors and benchmarks participants' performance against global sustainability standards along the entire sugar supply chain and, recently, for other products. The programme has been developed through a global agreement between ourselves and Intellync (formerly ABSustain) and has four universal improvement objectives – governance, people, environment and traceability. We also assist industrial buyers in engaging their supply chains in improved sustainability practices.
Our core clients

We engage a number of participants along the supply chain, including:
> primary and secondary processors (VIVE participants)
> farmers, shippers, forwarders and food and beverage companies (engagement to better understand and implement sustainability requirements)
> industry-leading sustainability benchmark programmes (collaboration to streamline audits).
Value creation and how we make money
Through our involvement in VIVE, we are raising the overall quality and ethical standards in our chosen supply chains by promoting sustainable best practices at both the farm and facilities levels. We also create commercial value by helping our industrial consumers meet growing end-consumer demand for transparent information about the provenance of food ingredients. Our income from VIVE is mainly derived from annual subscriptions and one-off consultancy fees.

What you can expect
Active expansion of VIVE into new geographic areas and a continued focus on strengthening VIVE's strategic 'spine' of global producers and processors.
To read our full annual review, you can download it from our website.
Authors: Paula Cooper and Carys Wright